About Amazon Fire TV (2nd Generation)
Access Netflix, Hulu, HBO NOW, Prime Video, and more.

There are over 500,000 TV episodes and movies ready to stream, or watch live TV (including sports and news) as it happens.

Easily find, launch, and control content.

Just press the microphone button on the device and ask to play music from Pandora, order a pizza from Domino's, shop for popcorn and snacks, and more.

Pair your Fire TV and Echo devices.

Just ask Alexa to play and search for movies and TV shows, launch apps, and control playback from over 200 apps and channels on your Fire TV.

Watch live TV with subscriptions to Hulu and Sling TV.

You can also use an indoor HD antenna connected directly to your TV to get broadcast networks like NBC and PBS.
eBay has provided more information about this product above and is not affiliated with or endorsed by Amazon.
Compare Similar Models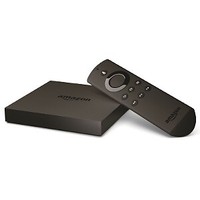 Amazon Fire TV (2nd generation)
Processor
Quad Core (dual core ARM Cortex A72 up to 2 GHz, dual core ARM Cortex A53 up to 1.573 Ghz)
Ports and Interfaces
DC Jack, HDMI output, 10/100 Ethernet, microSD slot (up to 128GB), USB 2.0 Type A, Wi-Fi (802.11 a/b/g/n/ac), Bluetooth 4.1
Screen Resolution and Refresh Rate
3840 x 2160 (2160p/4K) - 30Hz, 1920 x 1080 (1080p) - 60Hz, 1280 x 720 (720p) - 60Hz
Video Formats
H.265 (HEVC), H.264, H.263, VP8, VP9, MPEG-4
Audio Formats
AC3 (Dolby Digital), eAC3 (Dolby Digital Plus), AAC-LC, HE-AACv1 (AAC+), HE-AACv2 (enhanced AAC+), FLAC, MIDI, MP3, PCM/Wave, Vorbis, AMR-NB, AMR-WB
Photo Formats
JPEG, GIF, PNG, BMP
Remote
Amazon Fire TV Remote, Alexa Voice Remote
Internet Service only+ Kodi + Air Antenna for local TV/News- I watch it All!

The Fire TV 4k "Box" 2nd Gen rules! Running one a few yrs now and one may need to be a bit tech savvy to keep any of these going for "free" it's easy enough to google any issue you have even if your not a techy. The 2nd gen is faster so less buffering & auto updating can be turned off giving you control unlike todays sticks/boxes where Amazon still has final word on whats ran on one,you dont. The 2nd gen has USB and Micro SD so you can side load apps easily unlike most other models. Its still the fastest one ever made too and for a great review comparing all the boxes/sticks google- Fire TV Stick 4K Review Troypoint -you'll see it's the better one to have. Contrary to belief one don't need 100 meg service to stream with a box, nope not even 50, not even 25 meg (I prefer). I've been streaming fine with 6 meg service over a yr now. I see very few flicks buffer on this box but occasionally it will. Its power limits that greatly, living in the county I'm maxed at 6 meg DSL or I'd have a bit more honestly to speed up initial download start time but I wouldn't pay extra for it. Cut that cord!

Verified purchase: Yes

Better than I expected

yeah I was a little sceptical about getting this but overall greatly pleased. it comes loaded with more than I personally need but like a Swiss Army Knife, I'd rather have more options than I'll ever need or use but I like knowing if the time does arise, I'll be set. Also have the option to use get more apps. it hiccups from time to time but it's way better than using the Web and thank God I don't have to deal with those God forsaken pop ups anymore. I really have no complaints about it. in fact, I'm going to get one for my roommate for his birthday and for a back up incase the media hating chimpanzee revolt ever gains more speed and mine gets destroyed in a fantastic battle to the death and I survive and get its ass taxidermied and mounted on the wall over the TV that illuminates room with the very media they despise.

Verified purchase: Yes

Incorrect Display Picture

I purchased two of these fire sticks and they just came today. I was going to return them because the picture that is displayed made be believe I purchased the incorrect fire sticks. I already have one with the volume controls and that is what I wanted to buy. The picture shows the fire stick that doesn't have the volume control buttons... Just thought I would point that out in case any future customers wanted to purchase but based off the picture, would believe that it doesn't have the volume control buttons. I haven't set them up on my TV yet, but hopefully everything works out just find.

Verified purchase: Yes

Well worth the money!

Hey. So the stick was a little tricky to get set up because the directions were not how I finally got the thing to mate with my Panasonic tv. Once I got past figuring out how to do that part everything was zip-zip. I have access to everything a Smart-TV has on it. I haven't figured out how to use Alexa to control the remote completely and would like to but haven't had the time. I was using Alexa within an app, but figuring out how to use hands-free didn't happen. I'm going to ask my daughter to help get it working. Cool feature!

Verified purchase: Yes

This is as good as Streaming Media gets.

I have a smart TV and a Google Chromecast. Since I purchased this I use neither. The intuitive interface and the ability to easily pull all of your media operation into one easy to use menu is perfection. The set up was so easy I actually asked myself a couple of times "wait.. how did it know?" The fact that is runs on an open sourced operation system such as Android ensures that this will be my go to well into the future. WELL worth the money.

Verified purchase: Yes

The paddle to get you downstream

Streaming offers you so much more than cable, I wish I had this option years ago. Not only can you save money, but you get the things you want to see without all the excess cable forces on you. While I haven't tried the others, Roku etc., Firestick TV is great! One drawback, you must have a high speed connection to avoid buffering. (And for the most part, NO COMMERCALS!)

Verified purchase: Yes

Fire TV Stick is a bargain

I decided to try Fire TV Stick on a whim and cannot believe what a great deal this thing is. Now I have Fire TV on all my tv's. The remote works great and we also use the Fire TV app on our phones. Alexa feature works great on both the remote and phone app. I do have cable but probably do not need it anymore.

Verified purchase: Yes

Good. Don't know why they removed volume and power

I love the 4K and it performs well. Only annoying thing is the newer version has no volume or power button so you have to switch to different remotes for everything. Minor but still inconvenient. Good product tho

Verified purchase: Yes

All in one

Every app available on an easy to use platform. Super simple set up, streams flawlessly and fast.

Verified purchase: Yes