About Apple TV (1st Generation)
Movies.

Choose from the largest selection of on-demand HD movies and buy standard-definition movies the day they're out on DVD.

Tv Shows.

Watch great TV shows in HD, like Grey's Anatomy, a day after they air or get a Season Pass.

Music.

Play your iTunes music on your home theater speakers and control it with Remote, a free app for iPhone and iPod touch.

Photos.

Your photos make a big impact in HD on your widescreen TV. Access photos that are on your computer, Flickr, or MobileMe.
eBay has provided more information about this product above and is not affiliated with or endorsed by Apple.
Price Trends
Apple TV (1st Generation) - Price Used
Used Price*
from $15 to $23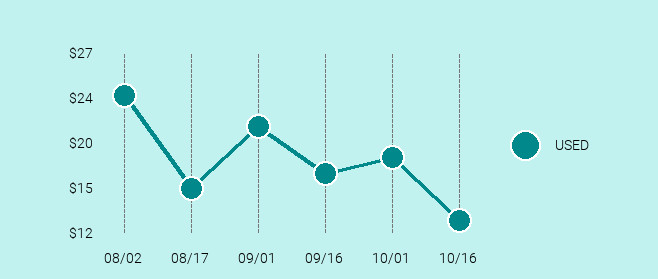 *The average sold price is calculated based on "Buy It Now" items sold within the 90 day period described above (excluding shipping and handling). Each interval represents a 15 day period. There is no guarantee that items will always be listed at a price within the provided range.
Compare Similar Models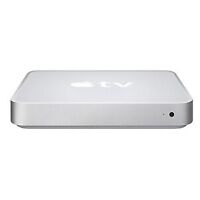 Apple TV (1st generation)
Ports and Interfaces
HDMI and component video (480p or 720p), Optical and RCA stereo audio, 10/100BASE-T Ethernet, IR receiver, USB 2.0, Wi-Fi (802.11b/g/n)
Video Formats
H.264 and protected H.264, iTunes Store purchased video, MPEG-4
Audio Formats
AAC, Protected AAC, MP3, MP3 VBR, Apple Lossless, AIFF, WAV, Dolby Digital 5.1 surround sound pass-through
Photo Formats
JPEG, BMP, GIF, TIFF, PNG
Size
1.1" H x 7.7" W x 7.7" D
Apple TV (2nd generation)

Ports and Interfaces

HDMI (720p), Optical audio, 10/100BASE-T Ethernet, IR receiver, Micro-USB, Wi-Fi (802.11a/b/g/n)

Video Formats

H.264 video up to 720p, MPEG-4, Motion JPEG (M-JPEG)

Audio Formats

HE-AAC, AAC, Protected AAC, MP3, MP3 VBR, Apple Lossless, AIFF, WAV, Dolby Digital 5.1 surround sound pass-through

Photo Formats

JPEG, GIF, TIFF

Size

0.9" H x 3.9" W x 3.9" D

Remote

Aluminum Apple Remote

Apple TV (3rd generation)

Processor

Apple single-core A5 chip

Ports and Interfaces

HDMI (720p or 1080p), Optical audio, 10/100BASE-T Ethernet, IR receiver, Micro-USB, Wi-Fi (802.11a/b/g/n), Bluetooth support for Apple Wireless Keyboard (requires Apple TV software version 5.2 or later)

Video Formats

H.264 video up to 1080p, MPEG-4, Motion JPEG (M-JPEG)

Audio Formats

HE-AAC, AAC, Protected AAC, MP3, MP3 VBR, Apple Lossless, AIFF, WAV, Dolby Digital 5.1 surround sound pass-through

Photo Formats

JPEG, GIF, TIFF

Size

0.9" H x 3.9" W x 3.9" D

Apple TV 4K

Processor

A10X Fusion chip with 64-bit architecture

Ports and Interfaces

HDMI 2.0a (2160p, Dolby Vision, and HDR10), 802.11ac Wi‑Fi, Gigabit Ethernet, Bluetooth 5.0, IR receiver

Video Formats

H.264/HEVC SDR video up to 2160p, HEVC Dolby Vision/HDR10 up to 2160p, H.264 Baseline Profile level 3.0, MPEG-4

Audio Formats

HE-AAC, AAC, Protected AAC, MP3, MP3 VBR, Apple Lossless, FLAC, AIFF, WAV, AC-3 (Dolby Digital 5.1), E-AC-3 (Dolby Digital Plus 7.1 surround sound), Dolby Atmos

Photo Formats

HEIF, JPEG, GIF, TIFF

Size

1.4" H x 3.9" W x 3.9" D
Top 8 High ratings
Top 1 Low rating
jailbroken has many great positives but is not always the answer

We love many things about the three jailbroken apple TV's we have. The biggest issue is streaming. Sometimes it is great and sometimes it stops and starts. We would love live TV and many shows don't work. Easy to use once you spend a lot of time. Overall experience is positive. It can replace Netflix and is better. Still trying to figure out how we can replace cable TV.

Verified purchase: Yes

The Price WAS Right!

I bought this to disassemble and tweak, i. e. (solid state hard drive and reinstall original iOS). Unit tends to overheat. This is due to poor design. Unit has plenty of ventilation but it is covered by rubber on the bottom. Hint: Remove rubber and dissolve the adhesive and install 4 rubber stick-on feet.

Verified purchase: Yes

1st gen Apple TV

I purchased the first GEN Apple TV because of the fact that it has a hard drive that I can hack. For my particular set up it works, I am off grid and it makes it easier to perform functions I would like to do.

Verified purchase: Yes

Great product

Old Apple TV is in my opiniom better buy than new ones....especialy the version with 160GB.

Verified purchase: Yes

Perfect Streaming Player

This is my first Apple TV. I'm anxious to try it. I love the Apple brand

Verified purchase: Yes

Couldn't have been smoother

Got what I bought with no hassle. Exactly the way it should be.

Verified purchase: Yes

Works well for what I need.

Good product, easy to use and everything works.

Verified purchase: Yes

Goid

Verified purchase: Yes