About Apple TV 4K
The 4K HDR era, now playing.

Apple TV 4K lets you watch movies and shows in amazing 4K HDR quality, offering great content from apps like Netflix, Hulu, and ESPN — plus live sports and news.

4K HDR sets a higher standard.

4K gives you a crisper picture using four times more pixels than standard HD. High Dynamic Range (HDR) delivers brighter, more realistic colors and detail. From the hottest movies to your favorite TV show, everything is more lifelike.

News and sports. Streaming live.

Apple TV 4K offers the live content you care about most — news and sports. You'll find your favorite sports from apps like NBA and MLB and breaking news from apps like Bloomberg and CNN, so it's easier than ever to watch live programming.

The Apple TV app puts everything you watch in one place.

Browse content from over 60 video services without switching from one app to the next. You'll find movies, shows, and recommendations. The Apple TV app is already on iPhone, iPad, and Apple TV and works seamlessly across them all.
eBay has provided more information about this product above and is not affiliated with or endorsed by Apple.
Price Trends
Apple TV 4K - Price New and Used
New Price*
from $139 to $143
Used Price*
from $111 to $122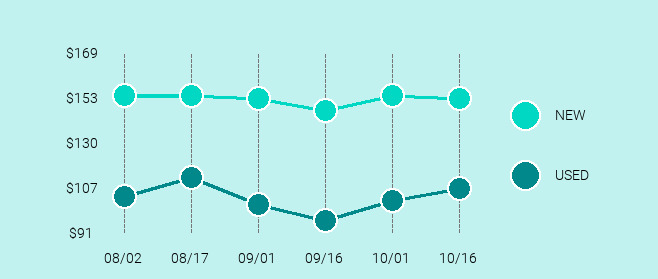 *The average sold price is calculated based on "Buy It Now" items sold within the 90 day period described above (excluding shipping and handling). Each interval represents a 15 day period. There is no guarantee that items will always be listed at a price within the provided range.
Compare Similar Models
Apple TV 4K
Processor
A10X Fusion chip with 64-bit architecture
Ports and Interfaces
HDMI 2.0a (2160p, Dolby Vision, and HDR10), 802.11ac Wi‑Fi, Gigabit Ethernet, Bluetooth 5.0, IR receiver
Video Formats
H.264/HEVC SDR video up to 2160p, HEVC Dolby Vision/HDR10 up to 2160p, H.264 Baseline Profile level 3.0, MPEG-4
Audio Formats
HE-AAC, AAC, Protected AAC, MP3, MP3 VBR, Apple Lossless, FLAC, AIFF, WAV, AC-3 (Dolby Digital 5.1), E-AC-3 (Dolby Digital Plus 7.1 surround sound), Dolby Atmos
Photo Formats
HEIF, JPEG, GIF, TIFF
Size
1.4" H x 3.9" W x 3.9" D
Apple TV (3rd generation)

Processor

Apple single-core A5 chip

Ports and Interfaces

HDMI (720p or 1080p), Optical audio, 10/100BASE-T Ethernet, IR receiver, Micro-USB, Wi-Fi (802.11a/b/g/n), Bluetooth support for Apple Wireless Keyboard (requires Apple TV software version 5.2 or later)

Video Formats

H.264 video up to 1080p, MPEG-4, Motion JPEG (M-JPEG)

Audio Formats

HE-AAC, AAC, Protected AAC, MP3, MP3 VBR, Apple Lossless, AIFF, WAV, Dolby Digital 5.1 surround sound pass-through

Photo Formats

JPEG, GIF, TIFF

Size

0.9" H x 3.9" W x 3.9" D

Apple TV (2nd generation)

Ports and Interfaces

HDMI (720p), Optical audio, 10/100BASE-T Ethernet, IR receiver, Micro-USB, Wi-Fi (802.11a/b/g/n)

Video Formats

H.264 video up to 720p, MPEG-4, Motion JPEG (M-JPEG)

Audio Formats

HE-AAC, AAC, Protected AAC, MP3, MP3 VBR, Apple Lossless, AIFF, WAV, Dolby Digital 5.1 surround sound pass-through

Photo Formats

JPEG, GIF, TIFF

Size

0.9" H x 3.9" W x 3.9" D

Remote

Aluminum Apple Remote

Apple TV (1st generation)

Ports and Interfaces

HDMI and component video (480p or 720p), Optical and RCA stereo audio, 10/100BASE-T Ethernet, IR receiver, USB 2.0, Wi-Fi (802.11b/g/n)

Video Formats

H.264 and protected H.264, iTunes Store purchased video, MPEG-4

Audio Formats

AAC, Protected AAC, MP3, MP3 VBR, Apple Lossless, AIFF, WAV, Dolby Digital 5.1 surround sound pass-through

Photo Formats

JPEG, BMP, GIF, TIFF, PNG

Size

1.1" H x 7.7" W x 7.7" D
Top 10 High ratings
Top 1 Low rating
Tricky WiFi set up but worth the hassle. Great upgrade!

Now that it's up and running, we love it. Our only frustration came during the set-up when we had continued WiFi issues. At times the Apple TV would pick up the WiFi but most of the time wouldn't connect even after trying everything (restarting Apple TV, modem, router, resetting to factory, etc). It then wouldn't see the WiFi network or if it did, say it couldn't connect even when all other devices were connecting just fine. We almost sent it back until I came across an article on Google about going into your router settings and adding the Apple TV MAC address to the WPA permissions (just Google exactly that and you'll find step-by-step instructions). This was simple once we found the article and its worked perfectly ever since. It's just weird that we had to dig so much to figure this out when historically, Apple products have been extremely easy to set up. Nevertheless, it was worth hassle. The 4k picture is gorgeous. The voice-to-text remote is awesome. Also, once you get past the WiFi issue, set up was incredibly easy. You bluetooth connect your phone to the Apple TV and it basically clones it, including all of your log-ins (Netflix, iTunes, Hulu, etc.) Now, whenever my phone is near by, it automatically gives you the option to use the keyboard on your phone to type into the Apple TV if you don't want to get up to grab the remote. Long story short, if you're using an older gen Apple TV, this is definitely worth the upgrade.

Verified purchase: Yes

Good device well worth the money, from eBay, that is.

In most cases the set up is easy, but if the Remote doesn't connect it can be a real fight to get it to work. I've had one, not this one, get real difficult to hook up. The Apple TV device itself, hooks up easily. But, do a Firmware up date immediately. Some of the earlier ones have old firmware that cause a bad picture on non-4K media. Google about the remote before sending it back. I found that holding the remote close to the device and pressing the "Menu" and "Volume +" buttons at the same time and holding them for a minute or so, I could get the remote to reset. Whatever works for you. I think the new remotes with the touch pads are too sensitive and hard for me to control, but the Voice command feature is great. I really enjoy the Apple TV, especially now that they allowed Amazon Prime on there. I share one account with my son and some other family members. You can share up to 6 people. I have mine hard wired in, but the wireless works great too. My daughter streams wireless as easily as I do on a wired connection. Air Play is a great feature as well. We use it at our office for presentations and educational meetings. Anything on an Apple laptop will be displayed on the TV. And the Screen savers are really cool!

Verified purchase: Yes

Great for Apple Customers

I'm not a Apple person, but my wife is and she wanted to stream work out apps to our TV and many apps proved unreliable so I bought this. I picked the 4k option for future TVs. The nice part is that the remote works great and has a touch pad. It also allows us to use Amazon Prime, and Netflix so we can have firesticks in some rooms ant this in the room my wife wants to work out in and it allows full flexibility to watch our streaming shows. I bought the refurbished model. It had a few small scratches, but it sits under the TV out of sight basically so no problem for us. Every thing went well except the shipper did not tell us a signature would be necessary so I had to go to the post office to pick it up. Wish they would have let me know. Also it was not delivered buy the guaranteed delivery date. I'm not super picky so I will give 5 stars. Packaging was in great shape.

Verified purchase: Yes

AppleTV 4K

4K is pretty cool, but more processing power is what I was looking for. The unit is more responsive, as I upgraded from a HD AppleTV with 64GB. This unit is a 32GB option. 4K is there and so are other HDR options. Remote is still same form factor + the ring on the menu button. Helpful for orientation but still has its fan and haters. I often as with the AppleTV use my iPhone AppleTV App - but even with a virtual keyboard the iphone cannot control volume for a AV receiver nor TV. Great device made for Apple Eco System ITunes, Amazon Prime Video, NetFlix and a bunch of apps. I am not a gamer but there are some available. AirPlay is really cool for a household with iPads and iPhones and laptops to share content on a big screen.

Verified purchase: Yes

Easy setup. Smooth function. Versatile in its operation.

If someone uses other Apple products (iPhone, iPad, MacBook), this is a nice addition to that family. The nice feature of this model, over its predecessors, is that it allows you to enter your TV provider information once for any apps you decide you want (e.g. History channel, ESPN, Disney) rather than adding that information over and over again. The mirroring feature allows your screen on another Apple device (iPhone, iPad, MacBook) to be replicated on your television. The device is easy to use and functions smoothly. One word of caution concerns the remote for the 4K model: it functions well, but it quite fragile. It is not like the all-aluminum construction of the 3rd generation. If dropped on a hard surface, it will shatter (as the face of it is glass).

Verified purchase: Yes

Very happy to have purchase the 4k 5th generation Apple TV

The Apple TV 5th generation is a tremendous product and well worth the money spent. I attempted to utilize the cord from my 2nd generation Apple TV and the unit kept turning off and on. Finally, I thought to replace the cord and the unit now functions outstandingly. I highly recommend the 4k 5th generation Apple TV, especially if you have or plan to purchase a 4k unit. The picture is beyond tremendous. The functions of this unit are absolutely great. Do yourself a favor and make the purchase. You will love this unit and be very glad you made the decision to upgrade your TV experience. I am actually thinking of purchasing a second unit but will wait to seek if a price change happens around the holidays.

Verified purchase: Yes

Apple TV is worth every penny

The Apple TV is, on its own, a great video streamer, and even better when integrated with other Apple products and services. My first Apple TV was the 2nd generation model and I was motivated to buy it so that I could play my iTunes video library on my TV instead of my computer. The 3rd generation introduced 1080 support, and the 4th generation introduced 3rd party apps as well as gaming. the 4K model (5th generation) takes that to another level with more storage capacity and a powerful processor. It's more expensive than it's competitors, but I much prefer its functionality and integration ability to similar products by other companies.

Verified purchase: Yes

I have concerns

I have had it work but a few days in I had to reset it. I had to factory reset it and finally unplug it and update it before it recognized the wireless wi-fi. This is the only concern I have over long term use of the product. I have a black web 4k hdr 18gbps 2.0 cable. I have the original remote ( I got it separate) and the power cable from Amazon.(it is a compatible power cable)

Verified purchase: Yes

I LOVE my Apple TV Purchase

I LOVE my purchase!! The Apple TV looks NEW. I did not see any scraches or sines of previouse use. Remote, Charing Wire, Apple TV in orginincal box. A++++++ (Make sure that you have a good quality HDMI cable so that you can play other stream services on your apple tv like (HULU, Prime) ... so that you want receive a video streaming error)

Verified purchase: Yes

Great product, easy to use, great picture and features.

Apple TV 4K has been a great addition to our streaming TV service. The feature our family likes the most is the screen mirroring which allows us to view our pics and videos on the TV extremely easily. Great product, and would highly recommend for Apple users, especially those looking to stream TV.

Verified purchase: Yes