About Motorola Droid Razr M
Showing slide {CURRENT_SLIDE} of {TOTAL_SLIDES}
The display appears bigger than it is.

The 4.3-inch display appears larger due to the bezel design which is close to the phone's edges. Physical buttons reside on the left edge adding to the phone's slim profile.

You may forget the Droid Razr M is in your pocket.

The Droid Razr M weighs 4.4 oz. and measures 4.8-inches which is easily tucked away inside pockets and purses without adding bulk.

Customize your home screens.

Seven customizable screens with organizable app icons and widgets. Shortcut options provide quick setting changes for commonly used functions like Wi-Fi, Bluetooth and GPS.

Cameras for any shutterbug.

Take VGA quality self-shots and use the 8MP main camera to snap landscapes, people and animals. Use built-in scene settings, filters and adjustments for exposure.
eBay has provided more information about this product above and is not affiliated with or endorsed by Motorola.
Price Trends
Motorola Droid Razr M - Price Used
Used Price*
from $21 to $31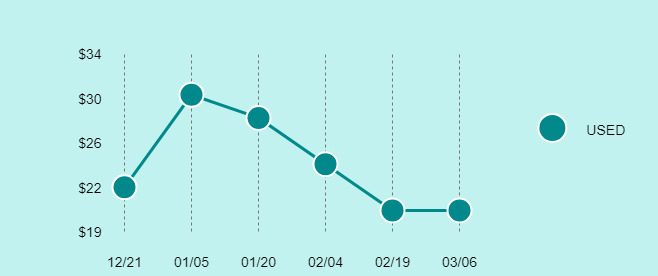 *The average sold price is calculated based on "Buy It Now" items sold within the 90 day period described above (excluding shipping and handling). Each interval represents a 15 day period. There is no guarantee that items will always be listed at a price within the provided range.
Compare Similar Models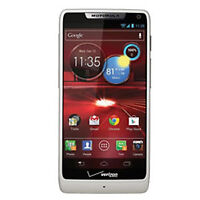 Motorola Droid Razr M
Operating System
Android 4.1 Jelly Bean
Processor
Qualcomm Snapdragon S4, Dual-core 1.5 GHz
Display Size
4.7" Super AMOLED Advanced
Display Resolution
960 x 540
Size
4.82 x 2.4 x 0.33 inches
Showing slide {CURRENT_SLIDE} of {TOTAL_SLIDES}
Top 5 High ratings
Top 5 Low ratings
Lightweight, cheap and easy to use

The phone is a very good deal based on it's price. A mid-level 8 MP camera, 1GB RAM (you can open Google Play Music, Clash of Clans and answer a WhatsApp pop-up as example without getting too slow) and a valuable 8GB internal memory. Also, as a factory unlocked model, an excellent purchase for those who lives in countries like Venezuela where buying an smartphone is something you can't usually afford.

Verified purchase: Yes

Good phone for the money.

The screen is a bit small, but adequate. People report the sound quality they hear on their end is excellent. The audio quality of the speaker is a little scratchy, but again adequate. The battery runs down a little quicker than I'm used to but of course it is a used item.

Verified purchase: Yes

Great Phone

If your like me and don't need all the "latest" tricks and gadgets but just want a smaller size phone that will do all the basics well (plus a bit more) then this phone is for you. Small enough to fit in your pocket but with a big enough screen to occasionally look things up. I love this phone.

Verified purchase: Yes

Nice small phone

If you want powerful small phone, this is one of not very much options. Small body, enough power, quite good camera and battery life. The design and build quality is jus perfect. One of the best of Android smartphones. Motorola updated it to KitKat. I had it for one year and I'm returning, although it's getting old, because almost all other phones are too big (except Droid Mini and S4 Mini which isn't much better).

Verified purchase: Yes

Great for a used and older phone

Product works great, but I had to make the apps on the device a minimum or else it would be really slow. But honestly what do you expect from an older phone. In my opinion, it is still working great! The owner obviously took great care of it.

Verified purchase: Yes