About Nikon FE
Showing slide {CURRENT_SLIDE} of {TOTAL_SLIDES}
Manual operation that stirs your creativity.

Bring the world into frame on the iconic Nikon FE 35mm film SLR camera. Have fun with night photography or creating double exposures and bokehs.

Top-level build quality.

Boasting a solid black or chrome body, this fully-manual Nikon SLR camera is impervious to the elements and bad moods.The textured body enhances grip to prevent slipping.

Compatible with a wide range of Nikon lens.

A nearly universal lens compatibility - just all Nikon F mount SLR lenses ever made since 1959 - massively expands your optics choice. Go on, experiment.

Compact camera that gets out of your way.

For amateurs, or as backup for professionals, this versatile camera is easy to use. Its compact form fits discreetly into pockets for those always on the move.
eBay has provided more information about this product above and is not affiliated with or endorsed by Nikon.
Price Trends
Nikon FE - Price Used
Used Price*
from $90 to $120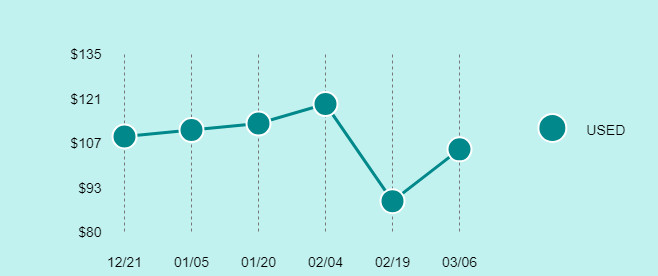 *The average sold price is calculated based on "Buy It Now" items sold within the 90 day period described above (excluding shipping and handling). Each interval represents a 15 day period. There is no guarantee that items will always be listed at a price within the provided range.
Compare Similar Models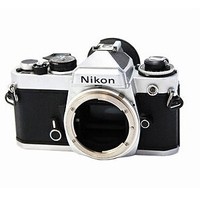 Nikon FE
Autoexposure Modes
Aperture Priority
Maximum Shutter Speed
1/1000
Showing slide {CURRENT_SLIDE} of {TOTAL_SLIDES}
Top 5 High ratings
Top 3 Low ratings
Excellent film camera.

I had one before this one, and can't find it. The Nikon FE can use any Nikon Nikkor lens, except for the G lenses, and the ones that require the mirror to be locked up, and the ones for the mirrorless Nikon cameras. The DX lenses will have dark corners., , As long as it is kept dry, it can take photos. It does use the small button batteries, but even if they die (after 2 or 3 years) the FE will soldier on as a mechanical camera at limited shutter speeds.

Verified purchase: Yes

It's a 35 year old Gem

Ran a roll of film through the camera and it worked fine. Had to replace all the seal to make it light tight but after 35 years that is expected. Other than that, nothing had to be done to the camera other than some cleaning. Super happy with the camera!

Verified purchase: Yes

Nikon Fe - great little Camera for 35mm

This camera is incredibly easy to use, since it can be used fully automatic., You have a huge choice of lenses with great quality and still a good amount of different films to choose from., Portra for people and Ektar for landscape is great with this camera., Make sure you buy either the Wein cell battery or another good replacement. The usual alkali batteries from the drugstore don't have the right voltage and the metering will be off., Consider also getting a Nikon K3 focusing screen, since it gives you a much brighter view in the viewfinder. You have to compensate +0,5 stops though due to the brighter screen., Other than that, the camera is pretty well made and as long as you don't have corrosion in the wiring it is very reliable.

Verified purchase: Yes

Nikon FE review

The Nikon FE is noted as one of the most exceptional SLR film cameras ever made. recently, I've picked a few of them up from ebay with an aim to bid for lower priced single units ( $50) or kits with additional lens, etc. ( $200). The item in this display fit under the later category and was worth the investment. Initially, I needed to replace to batteries in the camera to brand new ones (Energizer 375), then, all functions worked very nicely. In fact, 90% of the Nikon FEs that I have obtained have required new batteries for the meter and AUTO functions to work. Only in one case have I received a camera advertised as fully working in which the meter still doesn't work., , The unit in the title is pretty cool because it came with additional focusing screens and the Soligor telephoto lens works nicely., , For more info about the Nikon FE, please see Ken Rockwell's web-site, noting, that batteries don't seem to hold-up as well as he suggests and problems with the light meter are not discussed., , One last thing is that this is a pretty cool camera and I've gotten a lot of compliments on it's look and to me it is a pleasure to use.

Verified purchase: Yes

Best set yet

I got lucky on this set; a beautiful, full-working Nikon FE with two original lenses and some nice extras. The 28 mm prime Nikkor is a treasure. The 70 - 205 telephoto is also excellent and also a Nikkor. This only require fresh Energizer #375 batteries.

Verified purchase: Yes