About Pentax K1000
Showing slide {CURRENT_SLIDE} of {TOTAL_SLIDES}
Achieve the perfect focus every time.

Easily compose images with the help of the microprism spot focusing aid on the viewfinder focusing screen.

Runs without batteries for long shoots.

Enjoy battery-free operation with the mechanically controlled design, enabling you to shoot for extended periods without having to power up.

Easy-to-navigate manual operation.

Despite its manual operation, the camera is simple to use, with just three controls to help you achieve the ideal shot.

Learn the basics of photography.

Renowned for its rugged design and reliability, the manual operation makes it a great tool for understanding framing, focus and exposure.
eBay has provided more information about this product above and is not affiliated with or endorsed by PENTAX.
Price Trends
PENTAX Pentax K1000 - Price Used
Used Price*
from $80 to $108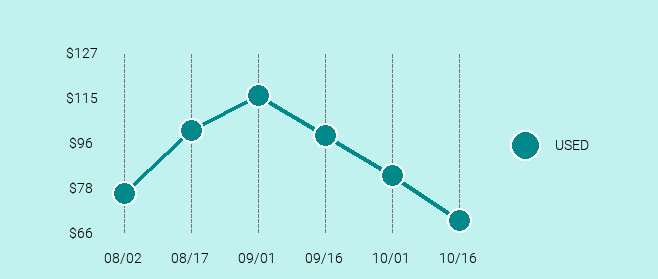 *The average sold price is calculated based on "Buy It Now" items sold within the 90 day period described above (excluding shipping and handling). Each interval represents a 15 day period. There is no guarantee that items will always be listed at a price within the provided range.
Compare Similar Models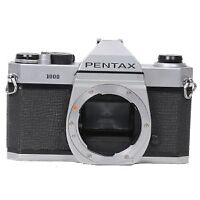 Pentax K1000
Autoexposure Modes
Manual Only
Maximum Shutter Speed
1/1000
Viewfinder Magnification
0.88x
Showing slide {CURRENT_SLIDE} of {TOTAL_SLIDES}
Pentax K1000 and lenses. Great value!

I'm quite happy I bought this camera an 3 lenses. The camera itself works great and the lenses are fenomenal. I've been taking a lot of pictures and it doesn't dissapoint. I wasn't expecting this offer to be so awesome. Thanks a lot!

Verified purchase: Yes

Excellent 1st 35mm film camera

This is my first 35mm film camera, and was really happy I bought it. Hell it was only $99 with the lens. Mine was in excellent condition and well packaged. I got the model with the microprism (not the split-screen). Note you need to put your eye a few millimeters back. Loading the film is straightforward, similar to other 35mm camera such as Nikon F3 but not like Leicas. Just remember to press the button under the camera before rewinding the film. Just wish the camera had a better grip to place my fingers., It will accept an universal screw-in type cable release., The 50mm f/2 is good enough for me since I mostly do my photography at small apertures (i.e. large f/stop number)., The K1000, as its name implies, has a maximum shutter speed of 1/1000 s. As far as I can tell all shutter speeds are accurate on mine. I do appreciate that this is a fully mechanical manual camera. It requires no battery to shoot. The single SR44 (don't buy LR44, silver oxide is much better than alkaline) only powers the light meter, an analog one that uses a needle, which is even better than the one on the Nikon F3 for instance, because the needle tells you by how many stops you are under/over exposing it (it doesn't tell you that directly but it's very obvious) and it's easy to see that you're coming close to the appropriate exposure., , The camera is very simple, it doesn't have a self-timer, mirror lock up, depth of field preview and any auto mode. It's a really great tool to get back to the basics (which doesn't mean you'll get basic pictures at all, bien au contraire !), , The size is just right. I wouldn't recommend it, but it just barely fits in the pocket of my jacket., , Too bad the lens doesn't come with a hood, though you can attach one., Also know that the lens will extend when focusing., The viewfinder doesn't have 1.00 magnification, but is it really a problem?, The flash sync speed is 1/60 of a second, not really usable for fill in flash but you'll appreciate the hot shoe (above the viewfinder, as usual) and cold shoe (facing the front of the camera, the round thingy on the bottom right of the lens)., , You can make multiple exposures using the following trick: Take your first shot. Then tighten the rewind (crank it a bit) then hold it with your left thumb, press and hold button under the camera while operating the film advance (although it won't advance the film but only cock the shutter). Take the second picture. Proceed as usual to move on to the next frame., Still I would waste a frame to make sure it won't overlap the last picture. This happened to me, it's not a fool proof. A dedicated function is much safer. I'm guessing the problem is tightening the film too much, in fact I should try not tightening it at all, it shouldn't make that much of a difference, if any., , This camera is fantastic, and even more for its price. It seems rock solid, with a metal construction., , I'd say if you want to try film, then you're really going to have a lot of fun, and will really enjoy the fact that this camera is so simple. Digital cameras have gone crazy in the recent years, there are just too many menus and options.

Verified purchase: Yes

Wonderful film camera

Some writers call this a student camera, mainly because it was used in schools' photo class. This is an excellent all person camera film, be they professional or student. Compared to other film cameras it does not have DOF preview, mirror lockup, timer, it is manual focus, shutter speed is 1/1000, and flash sync is 1/60. That said this camera provides that which is needed to take good images., , Film cameras are a light tight box that holds film, it is the lens not the camera that produces the image. This camera with the correct lens for the scene does an excellent job. Example I sold all my pro DSLR cameras, and my pro film cameras, moved to the Pentax K1000, K1000 SE (has the split screen viewfinder), and Pentax K2. These three cameras produce exactly the same image quality as my much more expensive film cameras did. This K1000 SE is a joy to use, easy, without confusing menus, having three settings ISO aperture shutter speed. It is very easy, focus, set the shutter speed and aperture, click the shutter., , This camera is all metal, well built, solid. Except for the light meter it does not need batteries to operate. Its viewfinder is a Pentaprism, not a pentamirror.

Verified purchase: Yes

Amazing value

My first film camera and I'd recommend it. Dead simple; cheap; and impressive image quality. This body has immense customizability with Pentax's multitude of interchangeable lenses.

Verified purchase: Yes