About Pentax ME
Showing slide {CURRENT_SLIDE} of {TOTAL_SLIDES}
Retro-inspired for turning heads.

Sport a stylish vintage look in either black or chrome. Limited edition models are available in a chrome finish with brown leather casing.

Semi-automatic operation for all level of shooters.

Featuring aperture priority operation, this 35mm single-lens reflex camera is simple to use for both novices and experienced photographers.

Accurate image composition and focusing.

Combines a 0.97x viewfinder with a microprism ring in the center for easy focusing. Frame and focus images accurately every time.

Easy viewing of exposure settings.

With the shutter speed displayed in LED lights in the viewfinder, you can keep track of your speeds, together with over/under exposure and camera shake.

Wide-angle, portrait and zoom lens options.

Expand your photographic potential with a wide range of compatible K bayonet lenses, together with M compact lenses.

Built-in features for creative shooting.

Utilize the self timer to put yourself in the picture or add an external flash using the hot shoe on the top of the prism.
eBay has provided more information about this product above and is not affiliated with or endorsed by PENTAX.
Price Trends
PENTAX Pentax ME - Price Used
Used Price*
from $40 to $66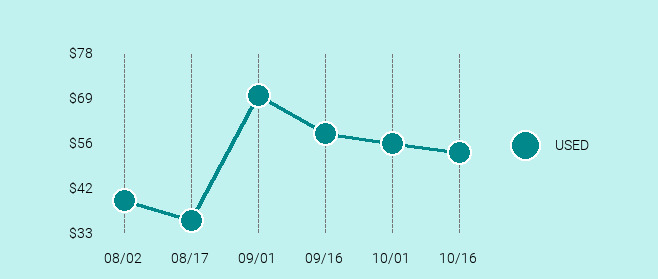 *The average sold price is calculated based on "Buy It Now" items sold within the 90 day period described above (excluding shipping and handling). Each interval represents a 15 day period. There is no guarantee that items will always be listed at a price within the provided range.
Compare Similar Models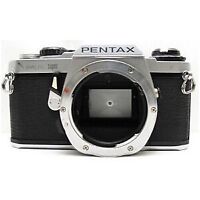 Pentax ME
Autoexposure Modes
Aperture Priority
Maximum Shutter Speed
1/1000
Showing slide {CURRENT_SLIDE} of {TOTAL_SLIDES}
Top 5 High ratings
Top 2 Low ratings
Awesome Buy

I purchased this wonderful little camera for a black and white film class I'm doing in college. I love it. I have some elaborate modern day digital cameras, but I'm really starting to fall in love with this little dinosaur. Works like a charm! Thank you for offering up such a wonderful camera.

Verified purchase: Yes

beautiful and good camera

Works great, the aperture-preferred auto exposure is very convenient, I won't use manual exposure with other cameras in most cases anyway. Camera is in good condition, very small SLR, huge finder with LED lights showing shutter speed. 28mm lens is great.

Verified purchase: Yes

A surprise for me

I've always been an Olympus guy, but not so long ago I've bought Pentax ME to sale it subsequently. Although the camera has pleasantly surprised me in more than one way., 1. It's incredibly lightweight and compact., 2. It's got a nice viewfinder. Sure, not as large and fancy as Olympus OM-1, but still better than double-digit OM cameras (which are direct competitors of MX)., 3. Shutter lock. Something I wish Oly cameras had., 4. A huge variety of Pentax K mount lenses are readily available, as long as they have manual aperture control., 5. It just looks nice., Sure, it's not a professional camera, but it's not a problem for an amateur like me.

Verified purchase: Yes

Pentax ME Super

This was the first 35mm camera I ever owned. It is simple to operate. I purchased this camera body to replace the original which had a film advance malfunction. This is the only flaw I have ever had with this camera. Lots of people have had this same problem. This mechanism just doesn't last.

Verified purchase: Yes

Good Camera for Collection and Hobby

I haven't used a film SLR after I sold my Nikon one years ago. Recently got into film developing and bought this one. It's not a rare piece but very straight forward and easy to maintain and operate. it's also fun to use.

Verified purchase: Yes