About Pentax ME Super
Showing slide {CURRENT_SLIDE} of {TOTAL_SLIDES}
Compatible with two lens styles.

Enhance your photographic potential with range of compatible K bayonet lenses, together with M compact lenses.

Accurate image composition and focusing.

Compose images using the 0.95x viewfinder, with a microprism ring in the center for easy focusing.

Easy viewing of exposure settings.

Keep track of your shutter speed displayed in LED lights in the viewfinder, together with over/under exposure and camera shake.

Semi-automatic operation with added manual mode.

Featuring aperture priority operation and an added manual mode, this 35mm single-lens reflex camera is simple to use.

Continuous shooting without power.

Opt to shoot in Auto mode with the aid of batteries or continue photographing at a shutter speed of 1/125 second if the batteries fail.

Stylish vintage-style camera body.

The retro look in a ruggedly-designed body of this Pentax is available in either a black or chrome finish.
eBay has provided more information about this product above and is not affiliated with or endorsed by PENTAX.
Price Trends
PENTAX Pentax ME Super - Price Used
Used Price*
from $65 to $83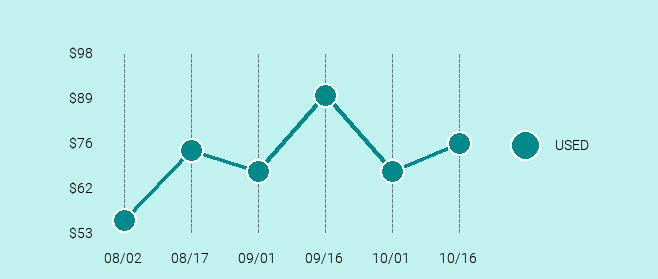 *The average sold price is calculated based on "Buy It Now" items sold within the 90 day period described above (excluding shipping and handling). Each interval represents a 15 day period. There is no guarantee that items will always be listed at a price within the provided range.
Compare Similar Models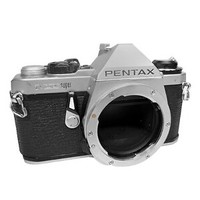 Pentax ME Super
Autoexposure Modes
Aperture Priority
Maximum Shutter Speed
1/2000
Showing slide {CURRENT_SLIDE} of {TOTAL_SLIDES}
Excellent camera

Small, lightweight, and relatively advanced for a film camera. Has an auto mode, but keeps manual and mechanical backup. Great purchase

Verified purchase: Yes

oldie but goodie

this is a fantastic camera with incredible optics in my opinion. I bought my first me super in 1979 and now another this year. I still have an incredible selection of family photos I took over 30 years ago, and very much looking forward to using it again because it just takes such wonderful rich and aesthetically pleasing photos. I also have a modern dslr which I love, but my heart belongs to this camera. I am so lucky I was able to pick one up on ebay and am giving it to myself as a birthday present this year.

Verified purchase: Yes

Cannot go wrong with this as a beginner camera that will grow with you.

Just got my first roll of film back and very pleased with the results. I tried to use auto for about half the pictures and used manual settings for the second half and out of a 24 exposure (cheap) roll of film I got 26 pictures back that all turned out as I had wanted. The camera is very easy to use and far lighter than my digital SLR that I have been using for the past 5 years or so. It is simple to use on both auto and manual and has proven (in the first roll at least) that it is able to produce perfect pictures with just a little thought, which is why I went back to film from digital in the first place. There are a ton of lenses available at reasonable prices making it just that much better even though so far all I'm using is the 50mm primary lens with good results. I would recommend this camera for anyone getting back into film, or anyone needing a light camera for travel. The view finder is huge and focusing is easy and fast making it my new go to camera when just wondering around in case a nice shot presents itself to me. This being my first film camera in 10 years or so I wanted something that would give me good results quickly but also would allow me enough adjustment to be able to work on perfect (or at least my version of perfect) composition while providing enough auto features to enable me to snap a picture whenever the urge hit me and the ME Super has achieved that for me. Then what I don't like about it. Hmm. I don't have anything yet. All the controls are easy to reach and adjust as I look through the viewfinder, even the push buttons for the shutter speed that I personally find more convenient than a dial. Yes you guessed it. I love this camera!

Verified purchase: No

Shooting film is easy! Vintage charm!

I bought the Pentax ME Super with 50mm lens to enjoy the vintage charm of an old film camera. I am an enthusiastic amateur and I have a modern film SLR and a digital SLR., , The ME Super is a great package. It has a wonderful Auto setting that allows you to manually select your lens' aperture while the camera selects the shutter speed (AV/Aperture Priority setting on today's modern cameras). This setting is largely fool-proof on the ME super and you will get great images. For difficult lighting situations, there is an Exposure Compensation dial to under- or over-expose by two stops on either side. The same dial engages in a different way to select ASA sensitivity (film speed)., , The camera also has a Manual setting that allows you to set the shutter speed and aperture, but the camera gives you feedback via LEDs on the left-hand side of the viewfinder., , There is also an entirely mechanical 1/125s shutter setting, for flash syncs and for when your batteries are dead. The camera also has a timer and a Bulb setting. To properly use the Bulb setting, get yourself a (locking) cable release for your long exposures., , There is no flash, no autofocus, and no TV/Shutter Priority mode., , The camera is extremely straightforward and easy to use!, , The only complaint that I have with the camera itself is that it is pretty small and it would benefit a great deal from a grip. I am a woman with average-sized hands and the camera feels too small to me and is slightly difficult to hold on to, especially coming from my larger and generously grippy cameras, like my ZX-L and K-30. However, the functionality of this camera is so pleasant, it is forgivable., , I wish that the camera's shutter was entirely mechanical so that batteries would not even be necessary, but there are plenty of other nice old Pentax cameras to fill that niche (MX, KX, K1000 etc), plus the batteries will last forever., , As with any old camera, it is a good idea to have the camera cleaned and light seals replaced. If you've got somebody who can calibrate the shutter speeds and light meter, even better., , Enjoy Pentax! Enjoy film!

Verified purchase: No