Посмотреть по параметру Network
Отображается слайд {CURRENT_SLIDE} из {TOTAL_SLIDES} - Посмотреть по параметру Network
About Samsung Galaxy Grand Prime
Showing slide {CURRENT_SLIDE} of {TOTAL_SLIDES}
Slim, but powerful.

Only 8.6 millimeters thick, the GALAXY Grand Prime combines sophistication and powerful performance, but svelte doesn't mean small: The 5 inch qHD display makes sure nothing cramps your style.

Top-notch performance.

The GALAXY Grand Prime is equipped with a powerful 1.2 GHz Quad Core processor for blazing-fast multitasking performance, no matter how much you have going on.

Get everyone in the shot.

The GALAXY Grand Prime has a 5 MP front camera with an ultra-wide view angle of 85 degrees. The wider angle of view means you can get more of your friends and more of the background in every shot.

Long-lasting battery.

You won't have to worry about your phone running out of juice at the wrong moment. The GALAXY Grand Prime offers a 2,600 mAh battery, so you can watch video, listen to music and keep your apps running for even longer.
eBay has provided more information about this product above and is not affiliated with or endorsed by Samsung.
Price Trends
Samsung Galaxy Grand Prime - Price Used
Used Price*
from $41 to $56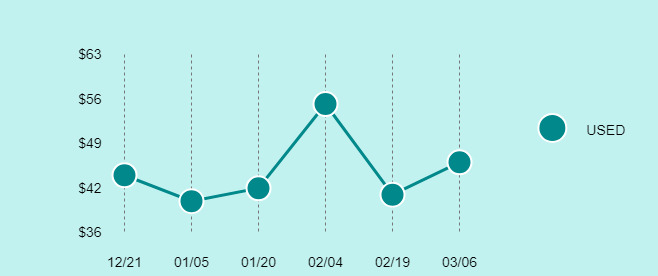 *The average sold price is calculated based on "Buy It Now" items sold within the 90 day period described above (excluding shipping and handling). Each interval represents a 15 day period. There is no guarantee that items will always be listed at a price within the provided range.
Compare Similar Models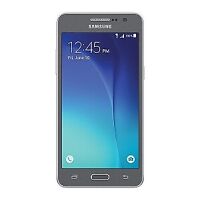 Samsung Galaxy Grand Prime
Operating System
Android 5.1 Lollipop
Camera
8 MP Rear / 5 MP Front
Display Technology
TFT LCD
Chipset
Cortex-A53 Qualcomm Snapdragon 410 MSM8916
Dimensions
5.70 x 2.80 x 0.34 in
Showing slide {CURRENT_SLIDE} of {TOTAL_SLIDES}
Samsung Ativ S

Operating System

Windows Phone 8

Camera

8 MP Rear / 1.2 MP Front

Display Technology

HD sAMOLED

Dimensions

5.40 x 2.78 x 0.34 in

Samsung Galaxy J2

Operating System

Android 5.1 Lollipop

Camera

5 MP Rear / 2 MP Front

Display Technology

Super AMOLED

Chipset

Cortex-A7 SAMSUNG Exynos 3 Quad 3475

Dimensions

5.30 x 2.70 x 0.30 in

Samsung Galaxy S III

Operating System

Android 4.3 Jelly Bean

Camera

8 MP Rear / 1.9 MP Front

Display Technology

Super AMOLED

Chipset

SAMSUNG Exynos 4412

Dimensions

5.38 x 2.78 x 0.34
Top 5 High ratings
Top 4 Low ratings
Amazing

I was so impressed with this phone that I just bought 2 more as spares. (nothing lasts forever) I made a test video to check the quality of the camera and screen resolution. It was not like HD but more like UHD. Unbelievable! The battery would last 2 days with Wi-Fi on. But after a year I noticed the discharge rate diminished. It will still last the entire day. The speakers are plenty loud for a cell phone, but the sound is kind of tinny. But then, this is not a $700 IPhone or Galaxy 7, Overall I would highly recommend this phone.

Verified purchase: Yes

Decent little phone

I think for the money it's a good phone but is not perfect. The camera takes good pics in good lighting. Mic quality and speaker quality is good. It's not exceptionally loud for playing music through the speakers. The battery life is okay but could be a bit better. The display is nice and easy to read is most situations. The UI can run a bit slow sometimes and gets hung up every now and then. You WILL need a MicroSD card if you purchase the 8GB model. Also download an app called Clean Master so you can actually clean junk files to download more apps otherwise you wont be able to. I bought a 16 GB MicroSD card to put all of my music, photos, etc on there so I can free up internal memory for apps and stuff. The touch screen's responsiveness is good as far as I can tell but the screen itself doesn't feel super high quality. It has that somewhat plastic feel to it. Not a big deal; you may not even really notice it. The flashlight is decently bright and definitely works in a pinch. For the price it's a good, lower-end smartphone. Definitely not the latest and greatest in terms of included features and specs but not a bad phone.

Verified purchase: Yes

Great phone for the price

Pros: Great price, Android 5.1+ OS, Plenty of features, expandable storage, Cons: Only 1GB ram, so this isn't going to run as many apps simultaneously as more expensive phones with 2GB+ ram. Running IG, FB, Spotify, and a few other apps and it bogs., -Side note: Find an OS like Cyanogenmod and load a minimal GAPPS to save space., Summary: Awesome phone for the price... bought this one for $74 from a trusted eBayer.

Verified purchase: Yes

great phone so far

i refuse to spend hundreds of dollars on a stupid phone......or a smart one for that matter!! but it does seem that you get what you pay for as usual. That being said I paid 150 for this one which is the most I have spent to date. It seems to be a major improvement over any phone I have had in the past and I do love it so far. battery life is very good and it has everything I need and more and I would definitely recommend it and would buy again. my wife has the galaxy s7 and she has had nothing but problems with it and cost $700!!! (a birthday present from mom) mine looks almost identical and other then the camera features being better on hers I don't really see a difference and mine takes great pics for me from the rear camera. as with everything though we will see how long it holds up. wifes galaxy s2 lasted a long time though and she misses it now.

Verified purchase: Yes

Second Phone

I needed a second Phone and wanted to stay with Samsung. I purchased this Prime thinking it was just a entry level phone but finding that it's just as nice as my S5 . the features are great and the size is close to my S5. I am very happy with this phone .I have been a Samsung Man for Many years. And i would even use this phone For primary Phone was great also , No problem with the unlocked feature it was like plug and play. it recognized my sim and even allowed me to transfer all my data from my S5 with a feature called NFC.

Verified purchase: Yes