About Samsung Galaxy Note 4
Showing slide {CURRENT_SLIDE} of {TOTAL_SLIDES}
Our best entertainment display.

Our 5.7-inch Quad HD Super AMOLED display features clearer images, high resolution video capture, and so much more.

Jot it all down with the S Pen.

Do more than ever before with the enhanced S Pen. The S Pen makes it easy to jot things down anytime with Action Memo and it's like a mouse for your phone, making it easy to highlight, cut, copy and paste whatever you want, on any screen.

Fit more into your photos.

The Galaxy Note 4 has a wide-angle, 3.7 MP front-facing camera so you can capture crisper selfies with all your friends. When you want to photograph anything else, turn to the 16 MP rear camera with built-in Optical Image Stabilization.

Do more at the same time.

Multi Window lets you open more than one app at a time on the same screen. You can browse the Internet while you post your vacation photos.
eBay has provided more information about this product above and is not affiliated with or endorsed by Samsung.
Price Trends
Samsung Galaxy Note 4 - Price New and Used
New Price*
from $169 to $259
Used Price*
from $78 to $95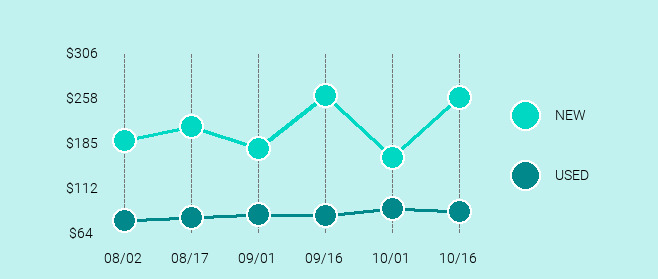 *The average sold price is calculated based on "Buy It Now" items sold within the 90 day period described above (excluding shipping and handling). Each interval represents a 15 day period. There is no guarantee that items will always be listed at a price within the provided range.
Compare Similar Models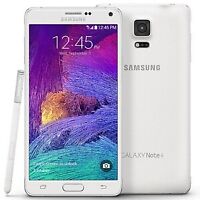 Samsung Galaxy Note 4
Operating System
Android 6.0.1 Marshmallow
Camera
16 MP Rear / 3.7 MP Front
Display Technology
Super AMOLED
Chipset
APQ8084 Qualcomm Snapdragon 805
Dimensions
6.04 x 3.09 x 0.33 in
Showing slide {CURRENT_SLIDE} of {TOTAL_SLIDES}
Top 5 High ratings
Top 4 Low ratings
Good upgrade from a note 3

This was my upgrade option for my beloved note 3. The note 3was a game changing phone. It was functional, sturdy, and easy to use. I wanted something similar, but new as I had used mine for 2 years very heavily. Even though there were a few newer note models.. The note 5 doesn't have a removable battery so that's not an option and the note edge didn't seem any better for the much bigger price after reading a lot of reviews. I went ahead and got the 4, good enough price to pay cash for and keeping up with the same quality. It took almost 2 days of updating and restarting to get the OS up to date since it is older. During that time I set it up and got used to it. I wasn't a fan of the keyboard, so I went back to SwiftKey. I did like the one handed texting option though! I was worried it would run hot after the first couple of days running so hard to update, but it's not had any issues since. This phones quality is great, offering a peace of mind when you are a little rough on it sometimes. Of course, I always do a tempered screen protector and a nice slim fit dual case, but I feel like this will last me the next two years until the 8 becomes a viable option. It is able to use the charge pad if you get the special back for it and the station. I didn't though. I got it a magnetic charge cable to reduce wear on the plug in. I hope my general information is helpful!

Verified purchase: Yes

The best value of all the Samsung Note 4s.

I bought this to replace my wife's Note 4 that was originally a Verizon unlocked phone that we bought used. We were using it on an AT&T network, and although it worked it had spotty 4G LTE reception and issues with having to have to take it to AT&T to have it reset for their network every time there was an upgrade and it wouldn't upgrade to Android 6.0 on the AT&T network. This Note 4 for AT&T now works perfectly on the AT&T network., , She takes a lot of pictures and video and travels so an external SD card and replaceable battery is a must. I offered to get her an LG V10 like my phone or a V20 but she likes her Note 4. I bought a new Note 4 for AT&T in the box with all the accessories unopened for 303 dollars. What a deal. It has a really good camera, and the Gorilla Glass 4 screen is tough as nails. She had the other Note 4 for two years and the screen was like new., , When you consider how the average user will gain with a new LG V20 or comparable phone and the Note 7 is extinct and the Note 5 was a step backwards, the 400 dollars that you save over a current model phone makes the Note 4 a real bargain, if a great 5.7 inch phone is what you want. Plus you have the option of the stylus if that is important to you. Battery life is about the same as any phone. If you are just using it as a phone the battery lasts a day and a half. If you are on it constantly then you need an extra battery, external power or put it on the charger to make it through the day., , If you need to shoot 4K video or be able to shoot photos and have a RAW dng file to work from then you need to look to the Premium LG phones or other 4K and RAW capable phones, but if JPGs straight out of the camera and 1080P Full HD video is all you need then this fills the bill very well., , For the audiophiles out there, if you like to Rip FLAC files from your CDs it will play them. The speaker is about average for a cell phone. Only so much that you can do with these small speakers. The internal DAC seems to be quite capable. It drives headphones and feeds our cars radio line in quite well. True audiophiles will probably want to look to the LG V10 with it's two high quality audio DACs or the V20 with it's 4 DAC system., , In summary this a great phone that will fill the needs of most users. It has a very high quality AMOLED screen that displays content with rich vivid colors, but in all fairness to readers of this review my wife and grandson, who has a Samsung S7 edge both complain about having difficulty seeing the screen in certain bright outdoor settings, so this may be a drawback to Samsung's AMOLED screens as I don't have that difficulty with my LG V10's IPS screen.

Verified purchase: Yes

Awesome screen with replaceable battery

If you want an Android phone with a bigger screen and replaceable battery, this is a great option. At this point (May 2016) the Note 4 is a good value. If you can find one that is in excellent condition, it's basically the same as the Note 5, but significantly cheaper. It also has a replaceable battery, unlike the 5. The battery life is quite good, but it is still the weak link in the system if you use your phone a lot., , The phone has a physical "home" button, and touch "back" and "view all open Apps" buttons below the screen. I was disappointed there's no longer a "menu" button as on my old Droid, but all the aps seem to have a good menu button in-screen, so I don't miss it too much. You can do a split screen with two apps, which is also very nice., , And the screen...oh the screen! This is the moneymaker for this phone. It is glorious. It's big (2-3/4" w x 4-7/8"h), and clear. I can't even see the individual pixels. You will never go back to a smaller screen again, but this is probably about as big as is practical. It fits in my hip pockets, but it sticks out the top. It also fits in the generous breast pocket of my coveralls, but there is no room to spare. But for actually using it, it's great. I have medium sized hands, and I have to work to reach the left side of the keyboard when typing one-handed, but I don't notice it much anymore. And typing two-handed is a breeze. The haptic feedback is great, and the keyboard finally has the numbers above the QUERTY row, all the time. You get special characters with a long hold of the keys, which saves having to go to the special character keyboard. The Swype text input feature works really well, but it takes some practice to get faster than typing just because it's a different input style., , The S-pen is a solid feature; I haven't used mine a lot, but it feels like magic watching the cursor appear as you hover over the screen. Handwriting recognition is pretty good, if you want to be able to have some tablet-like functionality it would probably be great for drawing and such., , As a phone, it works great. When you pull up contacts or recent calls, a swipe to the right will dial the person immediately, without having to go through another confirmation. It doesn't feel weird holding such a big phone to your ear; it's not like talking on a tablet., , If you're considering getting a phone with a bigger screen, just do it. You will wonder how you ever lived without it, and really, we spend a bit of time on our phones, so you may as well have the biggest screen you can practically haul around. This is an awesome specimen.

Verified purchase: Yes

Phablets don't get much better than the Samsung Galaxy Note 4

I had previous had the Note 3 and was a huge fan of that phone. The Note 3 was my first so-called phablet, and I definitely wanted either a new Note or something similarly large. For the Note 4, it was the specs that really sold me. Even though the 5.7" screen of the Note 3 was gorgeous, the Note 4 has an upgraded 5.7" Quad-HD display (2560 x1440), and the difference is truly stunning. Text looks crisp even when you zoom in, colors really pop while still looking natural, the blacks are deep and rich... The display is astonishing, a real sight to behold and an absolute joy to use., , In terms of performance, I was slightly disappointed that the Note 4 doesn't have a more future-proof 4GB of ram, but 3GB is sufficient for the most part. Every game I've play has been smooth and multitasking is usually without any hiccups. The average user and even most power users will find the Note 4's performance to be very admirable., , I've added a 64GB microSD card in the Note 4's microSD card slot, which is a feature infamously absent from the Note5. With plenty of storage space, I'll be able to save thousands of pictures taken with the Note 4's impressive 16MP rear camera, which boasts the optical image stabilization (OIS) that was disappointingly absent in the Note 3. Like virtually every entry in Samsung's Galaxy line, the Note 4 takes pictures that are crisp, have little to no noise and excellent color reproduction, and the smoothing that comes with image stabilization is minimal. The front-facing 3.7MP shooter is also very adequate although it would have been nice to get 5MP like some of the other phones available., , The S pen is one of the Note line's biggest selling features and it works better than ever with the Note 4. According to Samsung, the Note 4's sensitivity is double that of the Note 3, meaning that it can sense over 2000 different pressure levels. This translates into significantly improved and more realistic performance when you're using the S pen to write or draw on the Note 4. The S pen itself has been spruced up too, although it's missing the awesome spring mechanism that the Note5's S pen dons., , Thankfully, the Note 4 has a decently-sized battery at 3220mAh and the microUSB port has integrated fast charging, but with the screen being Quad-HD it would have been nice to have a bit larger battery as the battery life of the Note 4 can be pretty low if you're a heavy user like myself. However, if you're smart about power conservation and keep things like WiFi, Bluetooth, NFC, and location services turned off when you're not using them, you'll easily get through an entire day on a single charge, perhaps even more., , This may or may not be true, but it feels like the Note 4 doesn't have quite as much bloat as the Note 3 and other Galaxy devices, which is appreciated. However, it's still easy to disable the apps you don't want to use, which makes them disappear from the app drawer., , In addition to the usual accelerometer, gyroscope, proximity sensor, gesture sensor, and other Samsung staples, the Note 4 incorporates a fingerprint sensor for biometric security. Unfortunately, the fingerprint sensor in the Note 4 is the same sliding-based sensor as in the Galaxy S5, which isn't always the most reliable. Instead of simply pressing down on the home button and allowing it to read your fingerprint that way, you must slide your finger downward over the home button so that it can take a reading of your entire thumb (or whatever other finger you're using). If you have your finger at a slight angle or closer to one side of the button than the other, you'll get an error message and have to try again. At times, it'll take me two or three swipes to unlock my phone, which is disappointing when you see that other phones like the Nexus 6P or OnePlus 2 have excellent, responsive fingerprint readers that are touch-based rather than swipe-based. It's worth noting that the Note5 has the more reliable touch-based fingerprint reader, but the Note5 is missing several features that make me prefer the Note 4., , Currently, the Note 4 is running Android 5.1.1 with reports indicating it will get Android Marshmallow (6) sometime in December or January. With the new version of Android, the Note 4 will get expanded support for the biometric finger reader, expanded per-app permissions, and a new Doze mode that allegedly minimizes background activity while the phone is on standby, greatly increasing battery life. If that's the case, the Note 4 will be an even better phone once it receives the new OS. As of now, I'd say that the Samsung Galaxy Note 4 is still one of the strongest and most feature-rich smartphones on the market, and arguably one of the top phablets that money can buy.

Verified purchase: Yes

Samsung Note 4 - AT&T

This is an excellent device that has everything I need and more. The large screen may take most people (myself included) a little while to get used to at first. Especially if you're coming from a much smaller iPhone or Android. But you won't look back once you have a chance to adjust to all beautiful bright and vivid screen real estate. Pictures on a 16mgpx camera come out stunning and zooming in to crop does not reveal much if any distortion. I chose this Note 4 device over the newer Note 5 because this one has a removable battery and upgradeable memory card (up to 128gb). Unfortunately Samsung decided to leave out this functionality in all of its premium hero phones for 2015 and instead shifted to a unibody design, much like all iPhones. My hope is that 2016 will mark the return of removable batteries and memory cards to Samsung premium devices. You won't be disappointed in the Note 4 and I highly recommend this as the phone to buy right now. It is the same exact screen size as the Note 5 and has the same camera resolution as well. It also supports the rapid charge feature, which means you can get a battery from 0 to 50% in about 30 minutes or less. Dollar for dollar, it's the best premium phone money can buy today, period.

Verified purchase: Yes