Посмотреть по параметру Сеть
Отображается слайд {CURRENT_SLIDE} из {TOTAL_SLIDES} - Посмотреть по параметру Сеть
Посмотреть по параметру Статус блокировки
Отображается слайд {CURRENT_SLIDE} из {TOTAL_SLIDES} - Посмотреть по параметру Статус блокировки
About Samsung Galaxy S5
Showing slide {CURRENT_SLIDE} of {TOTAL_SLIDES}
Capture the moments that matter.

The Galaxy S5 offers superior camera functionality, featuring a 16-megapixel camera with an enhanced menu and user interface. The Galaxy S5 offers autofocus speed up to 0.3 seconds and the High Dynamic Range (HDR).

Tap into the fastest connections.

The Galaxy S5 supports the fifth generation Wi-Fi 802.11ac, 2X2 MIMO, and the large number of LTE frequency with LTE Category 4 standard. It also features Download Booster, an innovative Wi-Fi technology for boosting data speed.

Be more fit and active.

With the enhanced S Health 3.0, the Galaxy S5 offers more tools to help people stay fit. It provides a comprehensive personal fitness tracker to help users monitor and manage their behavior.

Express modern, glam look.

The Galaxy S5's sleek, contoured shape comes in an array of vivid colors, including charcoal black, shimmery white, electric blue, and copper gold, to complement the style of the individual consumer.
eBay has provided more information about this product above and is not affiliated with or endorsed by Samsung.
Price Trends
Samsung Galaxy S5 - Price New and Used
New Price*
from $120 to $214
Used Price*
from $52 to $61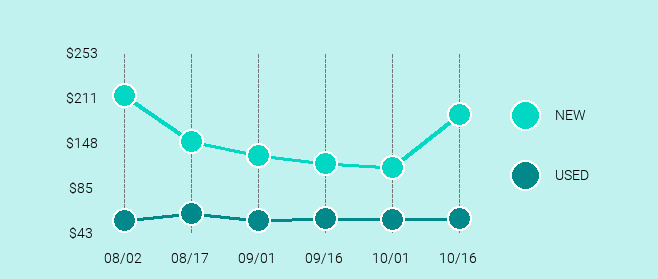 *The average sold price is calculated based on "Buy It Now" items sold within the 90 day period described above (excluding shipping and handling). Each interval represents a 15 day period. There is no guarantee that items will always be listed at a price within the provided range.
Compare Similar Models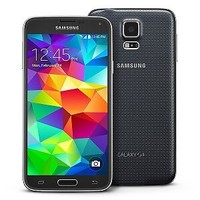 Samsung Galaxy S5
Operating System
Android 4.4.2 (KitKat), upgradable to 6.0 (Marshmallow)
Camera
16 MP Rear / 2 MP Front
Display Technology
Super AMOLED
Chipset
Qualcomm MSM8974AC Snapdragon 801 (28 nm)
Dimensions
5.59 x 2.85 x 0.32 in
Showing slide {CURRENT_SLIDE} of {TOTAL_SLIDES}
Top 5 High ratings
Top 5 Low ratings
Excellent phone for the price. Easy set up. Looks and works as brand new. Love it!

Excellent phone for the price. Easy set up through Boost Mobile. Phone looks and works as brand new. No scratches or wear. I've had it for a couple weeks now and no problem. I upgraded from an s3 to this s5 and I am very pleased with the this phone. I love taking photos and this one has a magnificent screen and 16mp. The functions are 97% the same as the s3. Instead of zooming in and out during picture taking using volume button this one you touch the screen and pinch and spread fingers in and out to do so. The settings menu is set up different but same stuff is their except developer options. You have to keep taping on the__icon about 5 times to open it in settings. There is still no rear facing flash for your selfies only front flash,but this phone brightens pictures automatically in low light which is pretty neat. Love the extra storage it comes with and extra SD card. No problem with it either. I've had some that kept erasing my apps. Nice bigger screen. Very clear. More hd/pixels. The pages give you an extra row to put app icons on. It also has an extra port on the bottom for a speed charger you buy separately. I have not bought this as I just use an app (fast charger) that works great and as long as you use some tips you won't waste your battery like turn off your location, turn down your brightness, power save mode on. I also use 360 security. I always hit boost button before I put my phone down. It shuts down all apps running. The best I found out of many I've tried. Don't use a bunch of widgets. Move your games to your SD card and other high mb apps (Facebook, messenger) biggest thing is to clear your cache every couple days to keep phone running fast under settings storage if your a big phone user. The only thing I don't like and I see why many are broke is the port charger cover is just connected by a thread and so easy to be broken off. But, that is only a minor thing. Oh yes this also doesn't come with the notification option for contacts either like the s3, but you can download an app like (sms) to add that. Overall I love it so far. Thanks for a great phone. I would definitely recommend this phone. =)

Verified purchase: Yes

Great phone with decent specs.

Bought this to be able to replace a really expensive phone I had and didn't wanna spend more than 300 on a new one. It has an amazing camera, let me just say that. It's size is great and feels pretty good in the hand. Not use to android but, once I disconnected all the apps I didn't need, I could finally use my phone the way I wanted to. For the most part I just talk, text, email, and do social media. This is what this phone is perfect for. If you like to listen to music, just add in extra memory with a card and you'll be good. It's also water resistant! I havent tested it, nor do I want to, but it's nice to have the potential comfort of it being ok if some water gets on it., , It's front facing camera may be the only thing I have a problem as sometimes it just doesn't seem like its 2MP. Battery life is great if you know what apps to have and how to moderate their notifications and what's running in the background., , The screen is great. It's bright, radiant, and the colors are vibrant. I honestly think that if you're into removable batteries, this is the best Galaxy version to get. Galaxy S6 and above all don't have removable batteries. In terms of specs, this phone is great. If you're always on the go and a social media guru and are constantly updating things like blogs and such, this phone's processor and quality of pictures and videos may not be up to the best par for 2016, but it'll definitely do the job.

Verified purchase: Yes

Galaxy S5 Active SM-G870A the best allrounder from Samsung

Had before the S2 then the S4 Active now I was looking for a successor, not that the S4 was old, slow or malfuntioning but I just wanted something newer to play with! Used my old S4 Active for kayaking or winning some best at the bar ... submerging them into a pint of pale beer (just wash it and after 2 yers of that the phone is still working! The newcomer from the USA was unlocked for free from AT&T (did I say tankyou?!) and will now take the place of the previous in my see kayak during my trips on lakes in CH and Italy. Tested once by submerging in the kitchen sink ... and everything ok ... just dryed. Looks like it will survive all my needs and abuses for a couple of years from now. Did also the update to 5.1.1 and works very nice even whit european carriers (CH and Italy again). WiFi whit perfect connection and amazing response from the GPS fixing that really takes a second to be done. Will test more deeply during the next trip on my kayak. (use Navionics as navigation tool and works very well on this device). Buyed upon pictures and reviews (S5 Active is not available in EU) and very very satisfied with the deal. S6 more fancy but no SDCard and no battery change by user possible ... I know is not the newest smartphone on the market but still one with the best overall features you can buy (Wife also has a 'regular' S5 and is also very happy whit them).

Verified purchase: Yes

Samsung S5 Smartphone

Though at the time I am writing this Samsung is already pushing the remnants of its S6 and Edge products, it is already on the cusp of releasing the S7., , I purchased this for the pricepoint and the fact that it has a removable battery and an internal port for a micro-SD card for additional memory storage., , Had Samsung included these features in later incarnations I might have decided to upgrade to a newer model, but as so many cell phone makers today are relying on two gimmicks (cloud storage and more expensive internal memory upgrades) I wanted to get a phone that will be practical and last me for 4 or more years before I have to get acquainted with yet another complex device., , Battery life is long in this baby. I clung to my HTC Thunderbolt until it became far too slow for internet connections and even basic browsing in some instances. My former smart phone was a great device when it came out and so I think I may have struck thunder twice with the S5., , The S5 is packed with enough features and flexibility that upgrading to an S6 or S7 is likely not for me in the near future. I am not a gamer, and do not rely heavily on cloud storage or streaming video by the gigabyte., , Given that many practical Android apps are free this makes for a good, practical and useful tool for myself personally and for my business., , I am not thrilled by some of the navigational quirks and am used to being able to backup my SMS and other internal items on the SD card and even being able to transfer them to my PC, but I am sure there is an app for that somewhere., , The camera is very good, works fine and provides sufficient quality photographs that it dispenses with the use of a pocket digital camera or external digital SLR or range-finder camera. The panoramic feature is something I truly appreciate. There is still a lag time between photos but one can set the camera to do multiple shutter exposures if necessary., , The ring tones are not all that great, but I was able to download some freebies without strings attached from Google Play., , Overall it does what its supposed to do. Navigation is a pain. I am used to being able to flip my screen to my app icons and just hit the internet connection and hot spot icons and poof I am on and tethered. Here you have to first connect (I stay off the net till I need it to conserve battery resources and keep usage down) and then navigate to another area to turn on the hotspot or bluetooth for tethering., , For half the price of a newer incarnation its a good value and will give you practically the same features.

Verified purchase: Yes

A Very Good Phone

This is my first Smartphone, so this review is the thoughts of a novice to Smartphones, but has used cellphones for almost eighteen years now. My thoughts of the Samsung S5 Active are:, , 5 stars for the design, value, easy of use, and the wealth of functions this phone has. Love the feel, and layout of the controls, and the fact phone is designed to be water proof if all ports/covers are properly closed and secured. Even though this phone out of the box is built like a tank, I encased it in a OutterBox Defender case for even more protection., , 4.5 stars for the camera. Photos taken with the S5 Active are very good if you take your time and wait for the camera to acquire proper focus, while holding the camera very still. Colors and saturation are very good without any user enhancements., , 3 stars for the volume and sound. I didn't purchase this phone to be a boom box for playing music, or for people to hear my conversations from ten feet away. When listening through the built in earphone to a conversation I would like to have a greater amount of volume. With my previous flip phone I could never use the volume at max as it was to loud. My S5 at full volume is a little low for me. Needs a boost, or tweak in this function. I will rate the speaker function below., , 2.5 stars for the Battery. If I leave home at 6:45am with a 100% charge, I will normally return around 7:00pm with approximately 15%-25% remaining battery life. That normal day for me includes between three and ten voice calls normally lasting less than two minutes each, perhaps two to five text messages, looking at the app "MyRadar" to check local weather conditions perhaps two to three times a day, and spending five to ten minutes a day while on my lunch break, looking at world news and current events on the Internet. Form some people this may be great, but I'm used to charging may phone and having two to four days of battery life if I needed it without charging. I see why people are constantly looking for charging outlets now, especially if really using a smartphone a lot., , 1 star for the speaker phone. I've off and on had problems with people hearing me when on the speaker. I've tried all kinds of tricks to get through this annoying problem. Turning off 'Noise Reduction' seemed to help with both ear phone and speaker phone communications. Shutting the phone down, removing the battery, and sim card, letting it sit like that for ten minutes, then doing a reset by holding the Power/Up Volume/and Home buttons at the same time to get to the Android operating system to clear the cache memory, and then rebooting, will also work for awhile. Not sure why if I make a call on the speaker at times people can't hear me, but turning the speaker off works. To me it should not effect the microphone operation unless boosting it's range when going to speaker mode, and changing the volume of the speakers. Not sure if this problem is with the phone hardware, or operating system, but it is annoying., , Overall I love this phone, and would say it is 'Perfect' if it not for the operation while using the speaker mode.

Verified purchase: Yes