Посмотреть по параметру Сеть
Посмотреть по параметру Статус блокировки
About Samsung Galaxy S7
Goes where you go.

The unlocked Samsung Galaxy S7 is designed for the way you live, giving you access to most U.S. GSM and CDMA networks. You can take it virtually anywhere you go, from Mexico City to Paris, and still stay connected.

Post-worthy day or night.

The camera has a sensor for catching details in low light, and a fast auto-focus for photos with less blurring.

Never delete a photo.

Running out of memory shouldn't be a thing, so if 32 GB isn't already enough, you can add an additional 256 GB with a microSD card. No clouds, no hard drives.

More power. More play.

Take charge of your time. Built-in wireless charging means your phone powers from 0 to 100% in no time (and it stays charged longer).
eBay has provided more information about this product above and is not affiliated with or endorsed by Samsung.
Price Trends
Samsung Galaxy S7 - Price New and Used
New Price*
from $176 to $253
Used Price*
from $89 to $125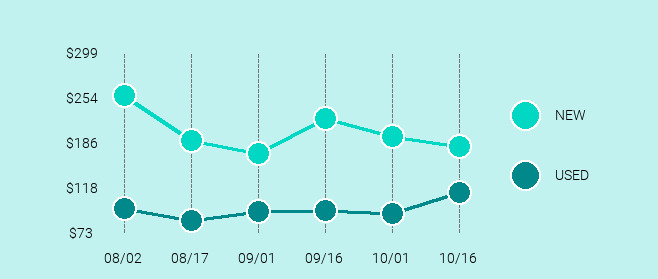 *The average sold price is calculated based on "Buy It Now" items sold within the 90 day period described above (excluding shipping and handling). Each interval represents a 15 day period. There is no guarantee that items will always be listed at a price within the provided range.
Compare Similar Models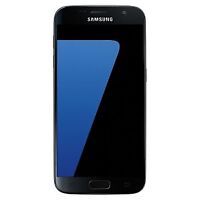 Samsung Galaxy S7
Operating System
Android 6.0 (Marshmallow), upgradable to Android 8.0 (Oreo)
Camera
12 MP Rear / 5 MP Front
Display Technology
Super AMOLED
Chipset
Exynos 8890 Octa (14 nm)
Dimensions
5.61 x 2.74 x 0.31 in
Top 10 High ratings
Top 5 Low ratings
Samsung S7: A decent older model of high end mobile phone

This S7 is an older model Samsung flagship mobile phone, which I upgraded to from a much much still older model (the S4). At the time I bought it the current equivalent model is the Samsung S10e. The S4, S7 and S10e are the same modest size, smaller than the much larger more popular form factors being sold today. As a many many years long happy user of the S4, I generally like the S7 I just switched to. The pros: Nice clear display, 32 GB (twice that of the S4) of internal system board storage, and a more recent Android version (ver 8 as opposed to ver 5) that is compatible with most current app software. The cons: Unfortunately the greedy, cynical phone making companies ... including Samsung... now have all followed the lead of the vermin at Apple, and no longer make high end phones which allow the user to easily remove, replace, or upgrade with a higher capacity battery. Additionally this means that in some cases of software crashes you have to take your phone to a repair shop and pay LOTS of money, where before with the S4 it took me under 30 seconds to (without using any tools!) open up the phone, pop out then in the battery, and get it thus to do a full cold reboot and wake up up working just fine. The rationalization given for this universal cynical strategy of enforced obsolescence is that it allows the phone maker to make the phone more water proof. But an honest company would give users a choice of a high end phone optimized EITHER for extreme waterproofing OR for easy end user battery replacement. I've never had my phone compromised by immersion in water in 6 years of use, so do not care about extreme waterproofing, but do care a lot about getting access to the battery.

Verified purchase: Yes

Samsung Galaxy S 7 New

Well you get what to pay for so I bought new I got me a sweet machine. I love the fact that it has a removable battery and that is not tablet size. I think unless you need it for work there is no need for a phone that doesn't fit in your pocket. This deal was a good one a price for a new phone that didn't broke my bank. The battery time is good altought I don't live in my phone neither play games if you do then you will have a different battery life. I do text quite a bit because I have a babysitting gig and I most communicate still I don't turn it off and it lasts a few days. Is not very good charging with the fast charger so I use the regular one still it charges quite fast. I do like it a lot and recommend it.The screen is bright with the movies but I don't put it to the max is just my liking. I have it on tracfone that runs on Verizon for this phone nd is as god and fast as any other customer. I text to California and Mexioc like to the next door fast as lightnning. So in any regular company most run like the wind too. I certainly recommend Samsung Galaxy S 7 is a flying macchine.

Verified purchase: Yes

Takes great pictures

I like the color purchased (gold) and I bought a clear gold sparkly case. All phones are expensive, so I think it's a good value. The pictures are clear & sharp. The editing software is not bad. Did I say it takes great pictures? Battery life could be better. With constant use you'll need to charge twice a day. I purchased a fast charger so that isn't too much of a problem. One negative for me is Samsung did not equip it with IR frequency so I am not able to use the phone as a universal remote. Real bummer. Had I known that I probably would have reconsidered this model. Not sure but I believe that's the reason my car app doesn't work and I misplaced the remote to a Samsung sound bar, so I'm not able to use my phone to control it. My previous phone was an older Samsung Galaxy model that could do both. If you intend to use your phone in that capacity be aware! Lastly, the sound quality is mediocre on speaker. Generally I'm told my voice is breaking up. When I use an earpiece the voice is clear. So it could be a problem of background noise interfering. Not sure. One last thing. It does take GREAT pictures.

Verified purchase: Yes

All around great phone! Front camera is just okay...

Coming from an LG G4, this is a great phone. I had the S3 when it came out and the updates are crazy! Screen size is good, It's fast, lightweight, expandable memory, waterproof, SUPER fast charging (my phone fully charges in 1hr 15min or so with the samsung usb cable) etc... I don't have any complaints except for the front camera. I expected a better front camera on the S7. It's 5 megapixels but the camera makes you look cartoonish or painted with some sort of filter even WITHOUT beauty mode. It gives you this painted look without showing clear details which I find annoying. I googled this issue and it seems to be a popular disadvantage to the phone. Although I did find that it takes the best pictures outside or in well lit areas. My LG G4 had an 8 mp front camera that would blow this S7 out of the water. It's definitely not a terrible camera, but to be on the s7 they could've done so much better. Overall, the phone is impeccable. I highly recommend it, definitely worth every penny! (I recommend going to a phone store and playing around with the phone in person to see if its a fit for you before purchasing!)

Verified purchase: Yes

Very easy to navigate

I was in dire need of a new mobile device after 5 years of owning a Galaxy Vibrant. I truly did not want to upgrade but slow internet, app opening and message receiving clearly was warning me that this phone was going to 'crash' sooner than expected. After reading other reviews on Ebay and my Mom owning a Samsung S7 I was convinced this was the best choice for me. The apps and settings are very easy to navigate and it takes less than 30 minutes to customize the cell according to my daily lifestyle. The battery life is very low. It is literally dying by the minute. So its safe to invest in a wireless charger and they can be purchased anywhere for a reasonable cost. I'm able to get on the web to listen to my fave music and news radio stations wherever I go. The camera is "flawless"...it's like taking photos with a Nikon camera. The seller offered a 90 day warranty(which came along w/ the phone) along with the ALREADY 30 day warranty if phone cracks, does not work, etc. It is a new cell in the box, all new accessories and unlocked for an amazing price. So far its a great purchase!

Verified purchase: Yes

Excellent

Phone came in great condition. First reaction was that it was brand new. Closer inspection showed a slight scratch on the home button, but the lighting has to be just right to see it. Also a small scratch on the camera lens on the back, but not in front of the camera itself, so does not affect pictures at all. Took the phone to a T-Mobile store to get a new SIM card, since I was upgrading from a Nexus 5, and the SIM card sizes are different for Samsung and Nexus. S7 was supposed to work right away with new SIM, but didn't work because IMEI on S7 showed that the phone was still locked from the sellar. I was initially dissapointed, but I reached out to the sellar via message, and they got back to me within 10 min and said they'd have the issue resolved within 8 hours. I woke up the next morning, restarted the phone with the new SIM, and it worked perfectly. No issues since then. Very happy with this purchase. Battery easily lasts all day with heavy usage. Nice to spend $270 instead of $550 for a great phone. Would highly recommend to anyone looking for an upgrade.

Verified purchase: Yes

Works great Slow Motion STUTTERS sometimes even when set to internal storage.

Bought this phone, was instantly hooked. I have only two problems with it. #1 Sometimes the slow motion stutters even when set to internal storage (why a star was subtracted). #2 The battery life is a little shorter than I expected, but that's only because I previously owned a galaxy j3 luna pro where I could use it for almost 2 days before I needed to recharge it, but it makes up for its battery life by how quickly it charges. I haven't had the change to by a wireless charger for it, but I was able to test the wireless charging on a wireless mobile charger in a store. (It worked even through the charger was still in its packaging #fail on the charger). The phone it self is very fast although it does get a little hot after a while. My favorite feature of all is the 1440p o-led display. I never had a o-led screen before and i was blown away. (for the ten people who do not know, on a o-led screen black is actually black not a dark color like lcd screens).

Verified purchase: Yes

Very Nice Phone

So far, this S7 has been very nice. It's very fast, even on power saver where the cpu is limited to 70% of its capacity. I work from home, and unless I'm out, the phone usually is on wifi, which has been working great. I don't do a lot of streaming, I usually keep the screen on about 50% brightness, and I usually leave GPS and Bluetooth off. While transferring everything over from my old S3 and going through all the settings and making some tweaks, the battery was lasting pretty much all day with maybe 20-25% left when I went to bed. After getting it all set up so it's idle for a fair portion of the day, I'm only charging it every 2-3 days, which works for me. The in depth review I read on phonescoop said he worked it to death gaming, streaming, GPS and Bluetooth always on, and his still had 15-20% left at end of day. I can't see mine doing that well, but perhaps after a few full discharge/recharge cycles, it'll improve. Overall it's a phone I'd recommend to anyone.

Verified purchase: Yes

As good as, or better than expected.

Phone was in very good condition. Minor scuffs on the rear top and bottom leading edges. The charging port has some scratches around the perimeter of the port but seems to charge ok. The screen was in great condition, and had a thin stick down screen protector on it. The screen protector does not go edge to edge on the screen, so there is a small gap on both sides. So far this has not been a problem (swipe does not seem to be affected). Battery life seems ok so far. Was at 97% when I received it, used it a lot that day and the next morning it was down to 48%. The phone activated on metropcs with zero problems. It seemed a little dim until I went to the brightness setting and saw that was set at about 1/4 of the brightness. When I adjusted it up, it got extremely bright! It did not come in the factory box, but seemed to be packed well enough to prevent damage in shipping. Time will tell, but so far this phone has worked well.

Verified purchase: Yes

Pristine Samsung Galaxy S7

Wow! Those were the first words out of my mouth when I got the notification that my phone had been delivered a day early. I opened the modest packaging to find my new, used SGS7 in pristine condition. I could not find a scratch on it. Now I'm seven days into using it, I'm still just as impressed as day one. The battery life is excellent; today I went almost 24 hours without charging it with moderate use. The screen is bright and colorful, the camera is easy to use, and the pictures are incredible! It also responds well to tactile manipulation and is responsive and decently accurate, even with fat fingers. Its ability to allow you to add up to 256 GB of extra, encrypted memory is nothing to shake a stick at either, and I've already added a 128 GB card that easily fit everything on my old phone. Backups are still recommended because I have personally experienced SD card malfunctions in the past and lost data. Overall, though, it's a great phone and I'm truly impressed with it. A+

Verified purchase: Yes