Посмотреть по параметру Объем памяти
About Apple iPhone (1st Generation)
Showing slide {CURRENT_SLIDE} of {TOTAL_SLIDES}
Become a 1st Generation iPhone owner.

Own a piece of history, the Apple iPhone 1st generation is the first smartphone Apple released. The triple-layered screen was new to the industry and considered high-tech in 2007.

Space-saving compact design.

A 4.5-inch phone fits nicely in a pocket or purse. Rest it inside your palm or between your fingers. The iPhone is less than half an inch deep and 2.4 inches wide.

Use the iPhone for hours.

Video binge up to seven hours or talk non-stop for eight. You can also playback audio for 24 hours or browse the internet for up to six hours before needing to recharge.

Three operating systems are available.

iPhones can come with 1.0, 2.0 or 3.0 operating systems. The 3.1.3 OS was the last version offered before Apple discontinued the original model in July 2018.
eBay has provided more information about this product above and is not affiliated with or endorsed by Apple.
Price Trends
Apple iPhone (1st Generation) - Price Used
Used Price*
from $98 to $170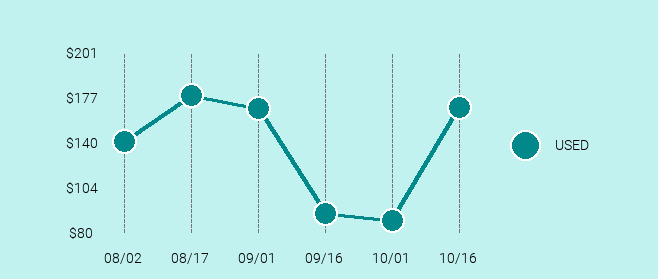 *The average sold price is calculated based on "Buy It Now" items sold within the 90 day period described above (excluding shipping and handling). Each interval represents a 15 day period. There is no guarantee that items will always be listed at a price within the provided range.
Compare Similar Models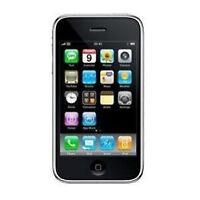 Apple iPhone
Display Resolution
320x480
Operating System
iOS, upgradeable to 3.1.3
Dimensions
4.53 x 2.4 x 0.46 inches
Battery Capacity
Up to 8 hours talk time
Showing slide {CURRENT_SLIDE} of {TOTAL_SLIDES}
Top 5 High ratings
Top 3 Low ratings
Collectible

Item is unsupported by most companies now being its 11 years old but it's a great collection piece. Strongly recommend if you are an Apple fan and want a little bit of history.

Verified purchase: Yes

great phone

i like this phone,great phone

Verified purchase: Yes

iPhone: Better than the hype/best cell phone ever 16GB

The iPhone 16GB has enough capacity for movies & music, , I've owned a cellphone since 1992. I've always had a "top of the line phone" (I've always had AT&T GSM as well = formerly Cingular = formerly BellSouth Mobility). I've had some good phones: Motorola v60 "Vader", Nokia 6102i, , GSM is the international standard & the technology the iPhone uses, , The 2.2.1 firmware is very stable. 2.0 brought the app store. 3.0 brought copy & paste, , I've had some REALLY bad phones: Motorola SLVR, Sony Ericsson s710a, & an HP iPaq 6515. In 16 years having cellphones, I've had over 100 (yes 100+) different models & makes, , I haven't had signal issues w/ many phones, it's always been asthetics that bothered me or a clumsy interfaces, , Every phone I've ever had, no matter how long I've had it - I always had a problem placing a call on hold & answering another call or joining a call into a 3-way call. With the iPhone interface being so well designed & the features so clearly labeled. I don't have that problem any more, , As for the design - the Sony Ericsson s710a was a beautiful phone, but the way it flipped open was awkward. When you opened it - it flipped upside down. You had to open it, then rotate the phone to use it, , With the HP iPaq 6515 - I hated the keyboard. It was hard to see, crowded w/ characters & difficult to use w/ my large fingers. This is a problem I face w/ almost all phones w/ physical keyboards except the HTC 8525 - which has the best phone keyboard of any phone. iPhone users should try the pogo stylus, , The camera on my Nokia 6201i was great, but it was difficult to use & to get pictures off of, , The iPhone keyboard is clear, easy to use, & once you get use to it - allows for very fast typing. I used it more in the first 10 days of owning my iPhone than I ever used ANY keyboard on ALL phones I've ever owned, , The camera on the iPhone is terriffic - the viewfinder & capture buttons are crystal clear. It's easy to get the photos from iPhone to computer for editing, , Unlike most smartphones - that have Windows Mobile, the iPhone has an intuitive interface that's easy to understand & navigate. There's no need to read a manual; it's just simple to understand., , Before the iPhone, I hated text messaging. I texted more in the 1st 10 days than I have in the last 10 years!, , Because an iPhone uses standard iPod sync & charge cables, accessories are easy to find., , Battery life is very good; even when utilizing power draining features like Wifi & Bluetooth., , I can actually use the calculator on an iPhone, unlike on other cell phones where you have to figure out what key corresponds to an add/multiply/divide, , The Google Maps feature is amazing w/ the ability to use satellite data. The GPS integration w/ LocateMe is awesome, , The weather forecast widget is nice to have - especially in the summer so you can plan your outdoor week or weekend spontaneously, , My complaints thus far:, , - Edge data network is acceptable, - I'd like to see bluetooth data exchange so I could sync an iPhone via bluetooth., - FM transmitters don't work well due to interference, , Invalid complaints:, , - Internet access too slow, , - The keyboard is hard to use - at 1st it is ... it definitely takes getting used to. Once you start letting an iPhone correct your mistakes & just hitting the space bar, it becomes pretty fast. I've always thought this was an invalid complaint because blackberry & treo are just as hard to us

Verified purchase: No

iPhone, is it as good as it seems? - Part I

The killer app on the iPhone has to be the phone. At the end of the day, it has to make and receive calls. It has to be loud enough and easy enough to use as a phone. One of the first things besides reception quality that is important to me is call volume. My cell phone has to be loud enough so that I can hear it in busy airports, walking down the street, etc. The Treo 650 was NOT loud enough which meant that I had to buy special software for the phone (Volume Care) just to boost the volume. So how does the iPhone stack up in this important area? So far so good. I've been making calls most of the day from the iPhone and the clarity and quality have exceeded my expectations. It's loud enough, thank you Apple. I can navigate to my favorites and place a call with one hand. It still takes more taps than it should. You should be able to hold down the Home button to get to the Favorites screen (are you listening Apple, that was a great idea I just thought of?). The iPhone comes with a set of white stereo earbuds with an integrated mic. The mic also serves as a button to answer calls, end the current call, decline and incoming call, and do the hold features of call waiting. It also allows you to advance to the next song that's playing and pause playback of audio from songs or movies. I don't like earbuds for extended use. However, since they ingrate the mic, I'll have to get used to them until a 3rd party solution comes out., , The iPod portion of the iPhone is what separates it from any other phone out there. Sure your phone may play mp3s, but it probably doesn't play the ones you bought from the iTunes store. Apple has completely redesigned the iPod interface on the iPhone. The famous click wheel is gone. You can customize the screen buttons to the areas that you access most. You can watch your movies, music videos and video podcasts. Music does actually play through the built-in speaker if you don't use the supplied earbuds/phone headset. The coverflow feature is pretty cool. My only complaint in this department is in the area of storage space. Storage on the iPhone is either 4GB or 8GB depending on the model you get. I have to say that while I can live in 8GB's of space, 16GB would have been much better. I actually can't believe that Apple would not offer a 16GB model. Especially considering how big video files and movies are. Perhaps they'll come out with a 3rd model that does 16GB just like they came out with an Apple TV after the initial launch that has a 160GB hard drive (as opposed to the 40GB hard drive in the first model). The iPhone like the iPod is syncs the status of the content you play back such as movies and TV shows. So if you start watching a video on your computer in iTunes and then have to leave, sync your iPhone and go. When you start watching it on your iPhone it will pick up where you left off. This works in both directions., , Safari- Another great function of the iPhone has to be the Wi-Fi. It might not be a nice dell laptop or computer, but it's a portable internet provider which makes traveling even easier. The internet can be used whenever, wherever, however and it's not difficult at all. The only downside to this Wi-Fi is that fact that it lacks Flash player. Flash Player is a program which is the main operator for a lot of websites. Hey, flash player or not, isnt it cool to still have the internet in the palm of your hand?

Verified purchase: No

iPhone 1.0: Better than the hype/best cell phone ever

This review is for the 1st generation iPhone. For a review of the iPhone 3G or iPhone 4, see my other reviews., , , I've owned a cell phone since 1992. I've always had a "top of the line cell phone" (I've always had AT&T = formerly Cingular = formerly BellSouth Mobility). I've had some really good phones: Motorola v60 "Vader", Nokia 6102i, and a Sony Ericsson T610. Then I've had some REALLY bad ones: Motorola RAZR, SLVR, Sony Ericsson s710a, Sony Ericsson Walkman W400, & most recently an HP iPaq 6515. In my 16 years of having cellphones, I've had over 100 (yes 100+) different models & makes., , I haven't had signal issues w/ many phones, it's always been asthetics that bothered me or the clumsy interfaces., , With every phone I've ever had, no matter how long I've had it; I always had a problem placing a call on hold & answering another call or joining a call into a 3-way call. With the iPhone interface being so well designed & the features so clearly labeled; I don't have that problem any more., , As for the design, the Sony Ericsson s710a was a beautiful phone, but the way it flipped open was awkward. When you opened it, it flipped upside down. You had to open it, then rotate the phone to use it., , With the HP iPaq 6515, I hated the keyboard. It was hard to see, crowded w/ characters & difficult to use w/ my large fingers. This is the problem I face w/ almost all phones w/ physical keyboards except the HTC 8525; which has the best phone keyboard of any phone. iPhone users should try the pogo stylus., , The iPhone keyboard is clear, easy to use, & once you get use to it - allows for very fast typing. I used it more in the first 10 days of owning my iPhone than I ever used ANY keyboard on ALL phones I've ever owned., , The camera on my Nokia 6201i was great, but it was difficult to use & to get pictures off of.The camera on the iPhone is terriffic - the viewfinder & capture buttons are crystal clear. It's easy to get the photos from iPhone to computer for editing., , Unlike most smartphones - that have Windows Mobile - the iPhone has an intuitive interface that's easy to understand & navigate. There's no need to read a manual - it's just simple to understand., , Before the iPhone I hated text messaging ... I texted more in the 1st 10 days than I have in the last 10 years!, , Because an iPhone uses standard iPod sync & charge cables, accessories are easy to find., , Battery life is very good - even when utilizing power draining features like Wifi & Bluetooth., , I can actually use the calculator on an iPhone, unlike on other cell phones where you have to figure out what key corresponds to an add/multiply/divide., , The Google Maps feature is amazing w/ the ability to use satellite data. The GPS integration w/ LocateMe is awesome (upgrade to 1.1., , The weather forecast widget is nice to have - especially in the summer so you can plan your outdoor week or weekend spontaneously., , Only complaints:, , - Edge data network is acceptable, but I wish was faster, - I'd really like to see bluetooth data exchange so I could sync an iPhone via bluetooth., - FM transmitters don't work well due to interference, , Invaild complaints:, , - the keyboard is hard to use - at 1st it is ... it definitely takes getting used to. Once you start letting an iPhone to correct your mistakes & just hitting the space bar, it becomes pretty fast!

Verified purchase: No