Посмотреть по параметру Сеть
Отображается слайд {CURRENT_SLIDE} из {TOTAL_SLIDES} - Посмотреть по параметру Сеть
Посмотреть по параметру Объем памяти
About Apple iPhone 5s
Showing slide {CURRENT_SLIDE} of {TOTAL_SLIDES}
Take a step forward.

iPhone 5s is not just a product of what's technologically possible, but also what's technologically useful. It's not just what's next but what should be next.

Screen time.

iPhone 5 set an amazing amount of technology in a remarkably thin 4-inch screen that emphasizes its light design.

The most advanced technology all leads up to this.

iPhone 5s builds on that achievement with Touch ID — a fingerprint identity sensor, an 64-bit A7 chip, an impressive iSight camera, and ultrafast LTE wireless.

iOS 7 is designed to compliment the iPhone 5s.

iPhone 5s was the first 64‑bit smartphone in the world, and iOS 7 was designed with that in mind, built specifically for 64‑bit architecture, which makes iOS 7 just as advanced as the iPhone it's on.
eBay has provided more information about this product above and is not affiliated with or endorsed by Apple.
Price Trends
Apple iPhone 5s - Price New and Used
New Price*
from $122 to $217
Used Price*
from $53 to $77
*The average sold price is calculated based on "Buy It Now" items sold within the 90 day period described above (excluding shipping and handling). Each interval represents a 15 day period. There is no guarantee that items will always be listed at a price within the provided range.
Compare Similar Models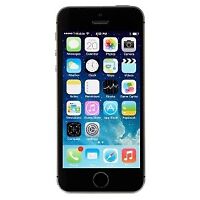 Apple iPhone 5s
Display Resolution
640x1136
Operating System
iOS 7, upgradeable to 12.1
Camera (Rear/Front)
8/1.2 MP
Dimensions
4.87 x 2.31 x 0.3 inches
Internal Memory
16/32/64 GB
Processor
Dual-core 1.3 GHz
Battery Capacity
Up to 10 hours 3G talk time (1560 mAh)
Showing slide {CURRENT_SLIDE} of {TOTAL_SLIDES}
Top 5 High ratings
Top 5 Low ratings
Expensive but works OK.

Bought this because of the small size. My Samsung galaxy 5 has features this one doesn't. On thing is image stabalization. Makes photos easier. I am still trying to get used to the apple OS IOS is similar to android but the minor differences are annoying. I am sure the difference would be treated the same for one going from iOS to Android. So it is not a big deal. The one thing I do like is the small size and supported OS. Android OS in the small frame s4 was not supported so my bank functions didn't work. They all work in the Apple product. The other thing I like about this is the battery life. Small screen means longer life. Of course I paid a premium for this unit. Almost $75 plus priority mail shipping. That is a lot of money for a cell phone. You can pick up an S5 for $60. So even though I have not tossed my S5, I am using this product daily and will see how it does. I don't do games. I watch TV on a TV and listen to a radio on a radio But I do listen to music, (have to mp3 my free google music rather than pay apple for their tunes. and I use the phone (and the apple is a lot clearer than the android) and text/email and bank. So really, I can't tell if I like this or not. But it is OK. I just can't get over how expensive it is for a phone.

Verified purchase: Yes

Works great and looks perfect a great bargain

I was skeptical at first but I'm glad I did it, I did transition from a Samsung galaxy 5 and I promise the screen size difference is huge, if you don't do well with a small screen this phone is not for you. The iphone5s is 1.1 inch smaller than the galaxy 5, the iPhone does not multi task so when you switch from apps the iPhone closes the app. At first it was strange but eventually you get used to it. The physical condition of this phone is perfect, there was a sticker on the back of the phone that said it was for a Verizon phone so I immediately got worried, I also didn't know you need a tool to open the sim cardholder that is on the right side of the phone, instead of buying the tool I just used the end of a safety pin and it opened the SIM card holder just fine. I put the SIM card and the phone automatically identified the service provider, it's been a very easy transition and am very happy with the phone.

Verified purchase: Yes

Very good phone

I like the smaller size, much easier to carry and to handle. Very fast OS, good battery life if you turn off un-needed background programs. If you don't do any tweaking, the battery will run down in less than a day. But with the adjustments I get excellent life from the battery - about 2 days if I don't do a lot of browsing or talking. I believe that Windows Phone has more features and is more useful for productivity, but alas Microsoft seems to be abandoning it as there is very little development and little incentive for new apps for that ecosystem. Too bad. However, I can say that Microsoft makes some very nice apps for iPhone - the top one in my book is Word Flow. If you are still typing on your phone using the hunt and peck system, you must give this one a try - a much smoother and quicker way of text entry., At any rate, the iPhone 5s is a very good phone. If you don't have to have a large size screen, you will be happy with it.

Verified purchase: Yes

1st time smart phone owner

I have held off buying a pocket computer until a month ago (why yes, it is 2016). I made it all the way to 30 before I had to upgrade to a smart phone, and while I absolutely miss my slider phone in all of its buttoned glory, I have gotten substantial enjoyment out of my new (to me) iPhone 5s., 1. I'm a fan of Apple products and how intuitive their interface is. For someone who has willfully stayed out of the tech loop for this long (isn't the iPhone 7 debuting this month?), the learning curve on my iPhone 5s was surprisingly small., 2. The keyboard is pretty accurate and not overly sensitive. This is particularly key for me. I cannot overstate how much satisfaction I got from the tactile sensation of pressing the buttons on my old phone. I like buttons, and I was especially worried about this change. It has been a much easier than anticipated transition., 3. I'm impressed with the battery life. With moderate use (texting, checking news updates now and again, listening to music), the battery will still last me over 24 hours. It's not the 3-4 days I used to get out of my old phone, but given the screen and the fact that it's pinging servers and up to all the other things that smart phones are up to, I'm surprised how long the battery actually lasts (especially since I work in a bar where at least twice a night customers ask for a charger for their phones)., 4. The size was a big draw for me, and I'm not disappointed. I like that it's lightweight and that it fits in my pocket, even in the bulky drop-proof case I got for it. I don't feel like I'm missing out on display quality even though it is smaller than a lot of other phones today., Overall I couldn't be happier with my decision to buy the iPhone 5s.

Verified purchase: Yes

iPhone 5s review in a nutshell

This phone does have a lot of features, it does have good reception when it comes to making phone calls and the touch-screen is very responsive compared to others however if you want to transfer music and videos from your PC to this Phone that's when it gets a bit complicated....For one thing, this phone doesn't have a slot for you to connect a memory card into like other phones....with this phone in order to connect with your PC you have to connect it via the regular lightning to USB cable that comes with it then you're forced to register with iTunes and zync your phone with it. iTunes is sort of like the PC "driver" for the iPhone. It's the interface for this phone, handles your music, videos and pretty much any media. Without iTunes you can't really transfer files from PC to phone or vice versa. Some features within iTunes are complicated to use and for some reason sometimes when you drag files from your PC to your phone, like music files and disconnect from iTunes sometimes your songs disappear from the phone which makes it very frustrating. I had some songs and ringtones disappear from the phone after disconnecting from iTunes for some reason. So that said, other than that this phone is pretty good.

Verified purchase: Yes